University of Education Township Campus Lahore BS 4 Years Program Merit List 2018 currently admissions is not open after than we will announce merit lists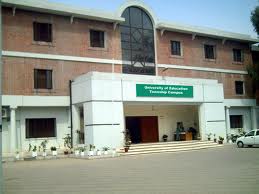 The University of Education (or UE), at Lahore, Punjab, Pakistan is the first specialized university in the field of education in Pakistan. It was established on September 10, 2002.
University have 10 Campus Now in Pakistan. Township Campus Lahore Division of Science and Technology show 1st merit List of the Following Programs:
BS IT Morning/Evening
BS Botany Morning
BS Chemistry Morning
BS Zoology Morning
BS Mathematics Morning
BS Physics Morning
 To Download the Merit list of following Programs Click the Links below to check the appropriate program.
[button link="http://www.learningall.com/wp-content/uploads/2013/10/UE-Township-Campus-BS-Botany-Morning-1st-Merit-List-2013.pdf"]BS Botany Morning 1st Merit List 2013[/button]
[button link="http://www.learningall.com/wp-content/uploads/2013/10/UE-Township-Campus-BS-Chemistry-Morning-Merit-List-2013.pdf"]BS Chemistry Morning 1st Merit List 2013[/button]
[button link="http://www.learningall.com/wp-content/uploads/2013/10/UE-Township-Campus-BS-Mathematics-Morning-Merit-List-2013.pdf"]BS Mathematics Morning 1st Merit List 2013[/button]
[button link="http://www.learningall.com/wp-content/uploads/2013/10/UE-Township-Campus-BS-Zoology-Merit-List-2013.pdf"]BS Zoology Morning 1st Merit List 2013[/button]
[button link="http://www.learningall.com/wp-content/uploads/2013/10/UE-Township-Campus-BS-Physics-Morning-Merit-List-2013.pdf"]BS Physics Morning 1st Merit List 2013[/button]
[button link="http://www.learningall.com/wp-content/uploads/2013/10/UE-Township-Campus-BS-IT-Morning-Merit-List-2013.pdf"]BS IT Morning 1st Merit List 2013[/button]
[button link="http://www.learningall.com/wp-content/uploads/2013/10/UE-Township-Campus-BS-IT-Evening-Merit-List-2013.pdf"]BS IT Evening 1st Merit List 2013[/button]