Imaging being the aga khan university for two weeks, having the opportunity to challenge yourself academic exploring complex topics and gaining valuable life skills, this is residential scholarship programme. No tuition fee will be charges.
AKU Challenge Scholarship Programme 2023
Aga Khan University is offering AKU Challenge (Scholarship) Programme for Candidates studying in 1st Year Pre-Medical having achieved at least 80% Marks in the SSC examination and Completing HSSC exams in 2023.
The program will offer rigorous, intellectually stimulating and developmental co-curricular activities.
PhD in Health Sciences:
The 4 Year Programme offers 8 scholarships, two each in biological sciences, Clinical sciences, Population and public health and Nursing Covering the tuition fee in full. research start up funds are also available.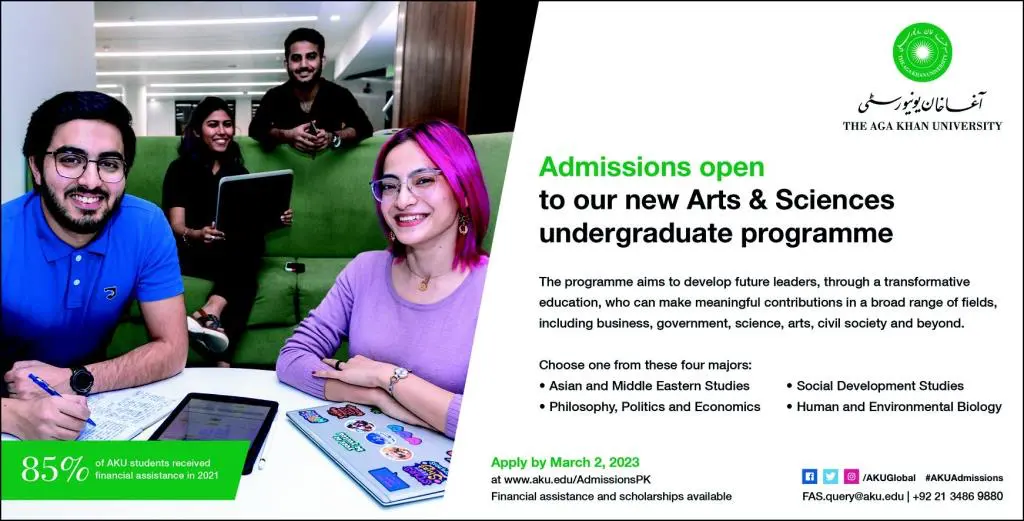 PhD in Education:
the 3 year programme by institute for educational development offers 4 scholarships covering the tuition fee in full.
All PhD Scholars are paid a monthly stipend.
Eligibility criteria:
The candidates who have passed their matriculation exam from The University of Aga Khan having achieved a minimum 80% marks and he is studying in intermediate and expecting to complete their HSSC pre medical exam in 2023 may apply.
The applicant is either an AKU-EB SSC Part II student or an AKU-EB SSC graduate The applicant must have obtained a minimum of overall 70% or above marks (Grade A) in SSC The applicant must have no failing grades in SSC Part I and Part II examinations The applicant must complete HSSC at an AKU-EB affiliated school/ college A genuine financial need besides the academic achievement In addition to academic achievement and financial need, the applicant must demonstrate personal qualities such as commitment to social service, adaptability and leadership skills.
Scholarship Application Form: Apply Online Now here
Scholarship Covers:
Monthly school/ college tuition fees up to Rs 3,500 per month
Annual book allowance of Rs 2,500 per year
Full AKU-EB examination fees for the two academic years of HSSC
Uniform, travel, and other subsistence costs are not covered by the Scholarship.
Read Also: Scholarships in Saudi Arabia for Pakistani Students 2023 HEC Apply Online
The last date of submission of scholarship application: 02 March 2023
The selection will be made on academic and merit base and the special consideration given to candidates from underprivileged areas of the country.