Swedish College of Engineering and technology Wah Cantt offer admissions in Civil Engineering, Electrical Engineering, and Mechanical Engineering. The Swedish college affiliated from UET Taxila.
BSc Civil, Electrical and Mechanical Engineering
The application along with the required documents should be submitted as early as possible. Please do not wait for the last date.
As soon as the process of selection is complete, the merit list will be notified showing the percentage of the applicants admitted in different disciplines against different categories.
All documents to be attached with the Application Form should be attested by a class-I gazetted officer of the government.
Any information regarding admissions can be obtained during working hours by calling Phone # 051- 4903801-2
For online application pay 1000/- PKR online @ ( 005601005046 Bank alfalah wah cantt.) or ( Demand draft at the name of SWEDISH COLLEGE OF ENGINEERING AND TECHNOLOGY WAH CANTT. )
Eligibility
60% Marks in Fsc can take admission in Civil Engineering, Electrical Engineering, Power, Mechanical Engineering.
An applicant for admission to BS. Degree Course in Civil, Electrical, Mechanical, must fulfill the following eligibility requirements. He should have passed the Intermediate (Pre-Engg) Examination with Mathematics, Physics and Chemistry from a Board of Intermediate and Secondary Education of Pakistan or an equivalent examination so recognized by the university. He should have passed the examination (up to the latest annual examination) on the basis of which he seeks admission. He should have obtained at least 60% marks in examination on the basis of which he seeks admission. He should be a bona fide resident of the area from where he seeks admission. He should meet standards of physique and eyesight laid down in the medical certificate. He should have appeared in the Entry Test for the respective session arranged by the university with the combination (English, Mathematics, Physics, Chemistry/Computer Science) or take the Entry Test organized by the College.
Read Also:
Wah Engineering College Admission 2022 Entry Test Last Date
Fee Structure
The following fees and charges are to be paid by the students admitted to the bachelor degree courses. The same are subject to revision/modification by the College authorities at any time without prior notification.
Fees structure and dues (in Pak. Rupees):
Image: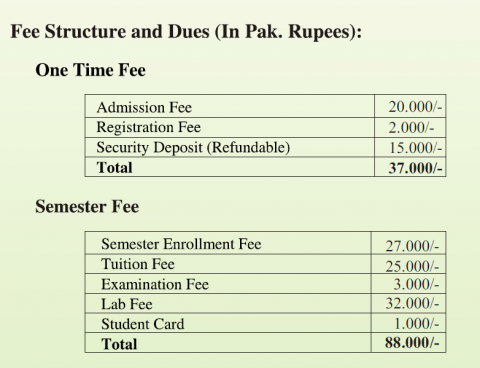 Merit and Seats allocation
Seats Allocation:
· Open Merit 80% · Reserved* 05% · Nominees of BOTs ** 05% · Overseas Pakistanis 10% *Reserved for sports, disabled and UET nominees **Board of Trustees
Available Seats:
· B.Sc Electrical Engineering 100 · B.Sc Mechanical Engineering 100 · B.Sc Civil Engineering 100
Read Also:
POF Internship Program 2022 Online Application Form Pakistan Ordnance Factories Wah Cantt
Determination of Merit:
Examinations Considered for Merit:
For admission to all the Bachelor's Degree Courses and determination of merit the following examinations are considered. Higher Secondary School Certificate Examination (HSSC) Pre-Engg or equivalent. Bachelor of Science (B.Sc.) · Diploma of Associate Engineers (D.A.E) · Entry Test.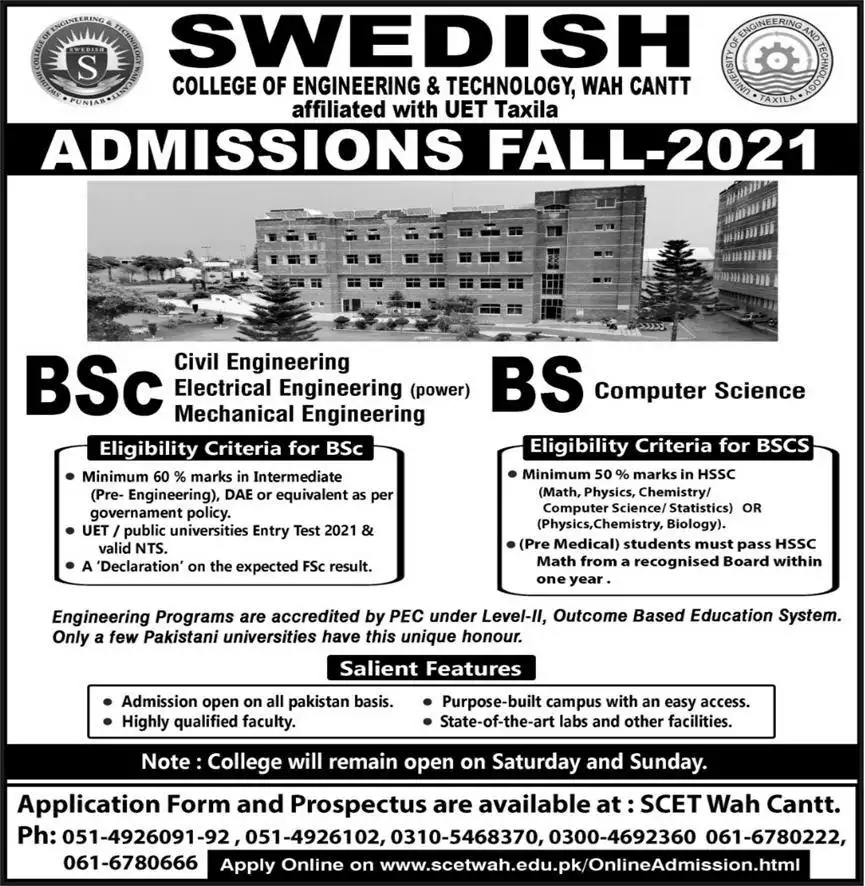 Weighted Percentage:
The comparative merit of applicants will be determined on the basis of weighted percentage marks obtained by them in these examinations. · For Applicants with HSSC (Pre-engineering) as the Highest Qualification HSSC (Pre-engineering) or Equivalent 70% Entry Test 30% · For Application with B.Sc. as the Highest Qualification B.Sc. or equivalent 35% HSSC or equivalent examination 35% Entry Test 30% · For Applicants Having Diploma of Associate Engineer as the Highest Qualification Diploma of Associate Engineer 70% Entry Test 30%
Website: https://www.scetwah.edu.pk