Bank Loans in Pakistan dated 03-January-2019: Summit bank of Pakistan offer wonderful loan scheme in Pakistan. Summit bank is one of leading bank of Pakistan brings loan scheme 2019. You can get loan in place of gold. This is easy way to get loan from summit bank, because almost every home of Pakistan the gold remains long time without any use.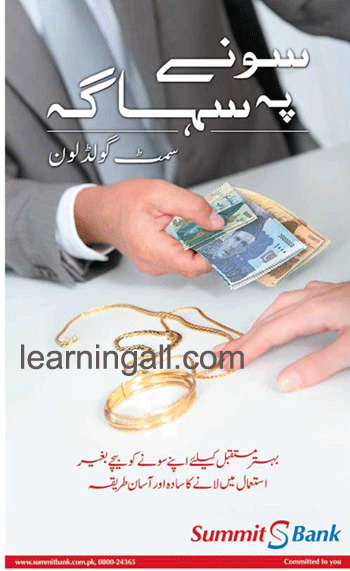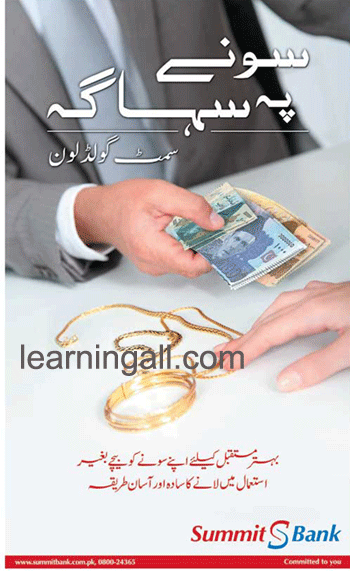 Just give you gold today to summit bank and get cash loan today, your gold will be remain same, you can withdraw your gold to giving back cash loan to bank any time.
For future planning I think this is best offer for those who cannot buy their gold, and can get their loan back when they want.
Benefits:
Instant loan
Low Competitive Markup
Utmost safety of Gold
Minimum Documentation
Higher Loan to Value
Easy repayment
No minimum income criteria
One Time payment option available
Features:
Age Limit- 18-60 Years.
Loan Amount- Maximum upto 2 million.
Markup Rate – 3 months Kibor +5% or Minimum 15% (Per annum).
Loan Limit – Up to 60% of Gold value.
Tenure – Up to 1 Year on roll over basis.
Loan Type – Running Finance / Term Finance
Repayment option –Monthly, Half Yearly ,Yearly.
Withholding Tax applied /zakat deductible unless exempted.
Requirements:
Account will be opened in accordance with documentary requirements laid down in the SOP of "Account opening and management"
Must be a resident Pakistani
No minimum income required
2 passport size photograph of applicant
1 passport size photograph of Nominee
2 References
Quality of Gold Not less than 18 Karat