Wartsila Pakistan private limited company is looking self-motivated, dynamic,  energetic and talented young trainees for summer internship program is an exciting opportunities to avail real time opportunity to get real time experience and where you will build skills and professional network that can enhance your career for the rest of your life.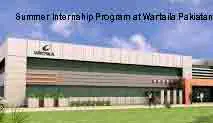 The last date for submission of application form: 
Wartsila Pakistan invited internship applications from Pakistan candidates from different disciplines:
Mechanical engineering
Electrical engineering
Supply chain management
HR human resources
Duration of Internship: 4 to 6 weeks
It's a Paid Summer Internship Program
Locations: Lahore, Karachi, Faisalabad, Rawalpindi and Kalar Kahar.
The interested candidates from different universities who have completed their 6 semesters may send their summer internship applications.
Fresh male and female graduates are encouraged to apply.
Kindly write discipline and location in subject line, internship application with wrong subject line will not be entertained.
Subject line like: Electrical Engineering for Karachi
How to submit internship application form:
The interested and eligible candidates may send their resumes to [email protected]