Sponsor student program welfare Trust Distribute Scholarships in Lahore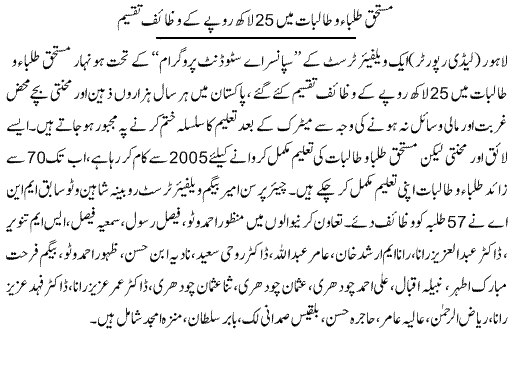 The ameer begum welfare trust Lahore awarded scholarships in Lahore today almost 57 students, the worth the scholarship is Rs. 2500, 000/- According to Sponsor a Student Program, Welfare Trust distributes scholarships among talented and needy students. In Pakistan many students cannot afford education after matric, due to this many students of Pakistan cannot continues their education, the Ameer Begum Welfare Trust providing scholarships for those candidates who cannot afford education. The Ameer Begum Welfare Trust working from 2005 to providing help and scholarships to needy students who wants to carry on their education after Matric, The welfare bears student fees and their expenses from 2005 to till welfare trust provides free education to more than 70 students now that students take the dgrees from different colleges and universities now they are working in many good fields of Pakistan and worldwide.
The chairperson of the trust Robina Shaheen and others Mian Manzoor Ahmad Wattoo, former Chief Minister Punjab, Faisal Rasool, Samia Faisal, S.M Tanveer, Dr. Abdul Aziz Rana, Dr. Roohi Saeed , Amir Abdullah, Nadia Ibn e Hasan, Begum Farhat Mubarik Ather, Rana M. Arshad Khan, Naila Iqbal, Mr. Ali Ahmad Chaudary, Sana Usman Chaudary, Usman Chaudary, Dr. Umar Aziz Rana, Dr. Fahad Aziz Rana, Riaz ur Rehman, Alia Amir, Mian Zahoor Ahmad Wattoo, Hajra Hassan,. Munaza Amjad, Bilquis Samdani Lak, and Babar Sultan are looking this trust to countines providing scholarships to need base and talented students of Pakistan.