State bank of Pakistan offering training scheme for Officers for the post of Assistant Directors, SBP is the central bank of Pakistan offering wonderful training and career opportunities for master and graduate degree holders.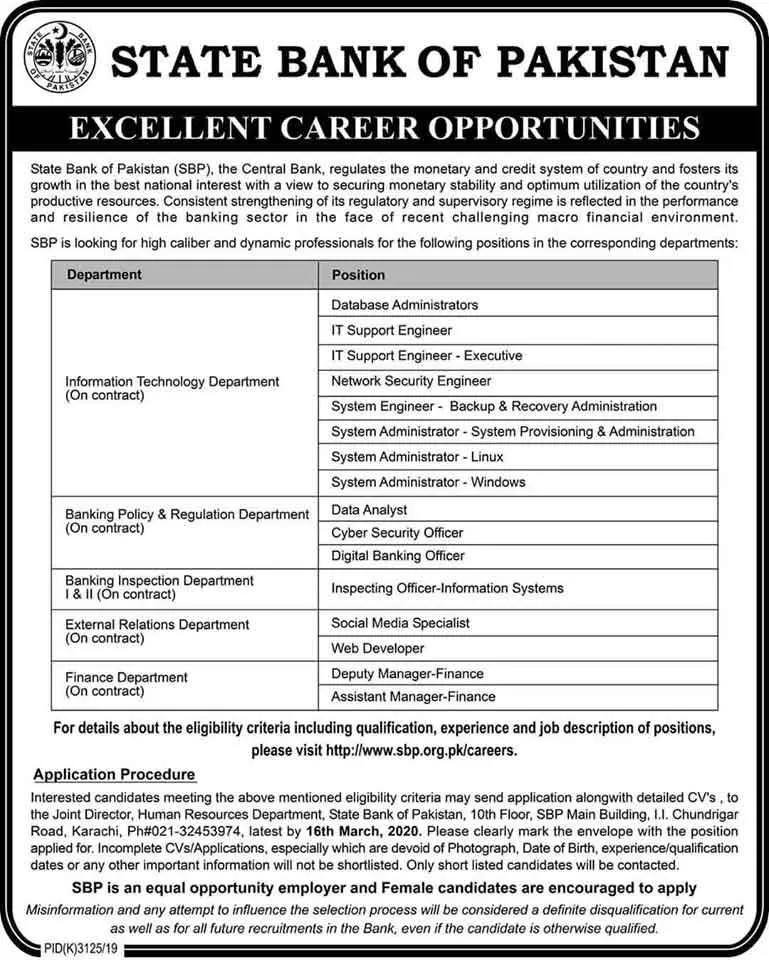 To fulfill State bank of Pakistan vision 2020, bank requires applications from high caliber and dynamic professionals for the positions of assistant director OG2, these positions are permanently based in Karachi.
Application Deadline Last Date: 11 March 2020
Eligibility for SOTS Training:
The interested candidate must have master or bachelor degree with 16 years of education at least 60% marks or 2.5 CGPA out of 4.0 or 3.5 CGPA out of 5.0 from HEC recognized Pakistani institute in Subject statistics.
Foreign degree holders are required to submit certificate that is issued by higher education commission of Pakistan with application form.
The candidates who are waiting their academic results are not eligible to apply.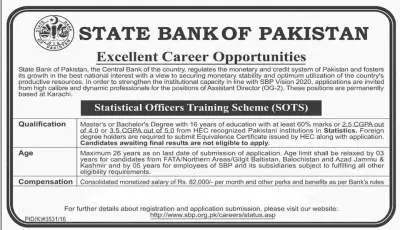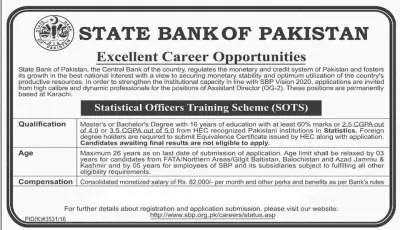 Age limit:
The interested candidates' age limit maximum 26 years old as on last date of submission of application. Age limit shall be relaxed by 03 years from candidates from FATA / northern areas / Gilgit Baltistan, balochistan and azad Jamu Kashmir and by 05 years for employees of SBP and its subsidiaries subject to fulfilling all other eligibility requirements.
 Benefits and compensation:
Consolidated monetized salary of Rs. 82000/- per month and other perks and benefits as per SBP Rules.
Written Test & Interview:
Shortlisted candidates must appear in the written test. Those who qualify the test are invited for group discussion/ interview.
Pre-induction Training:
Selected candidates join National Institute of Banking and Finance (NIBAF), Islamabad for pre-induction training.
Remuneration:
Competitive compensation package and allowances; Medical facility for self and dependents; Interest Free Home Loan, Car Loan and PC/Laptop Loan and Group Term Assurance.