Sarhad University Peshawar Engineering and Technology offers admissions in Graduate, Postgraduate and PhD programs for Spring 2021-22 session. Admission application deadline for engineering programs:for more details suit.edu.pk.
Last Date for Submission Admission application : 24 February 2021
Applicants need to pass GAT General With 50 Percent Marks for MS/M.Phil Programs and GAT Subject with 60 Percent Marks for PhD Program.
GAT General / Subject with be Conducted by the university on date 27 February 2021 Saturday.
Application deadline for undergraduate Program: 26 February 2021
Scholarships:
Free education program from workers welfare fund industrial workers and their children.
20 percent of tuition fee for textile and fashion design and Fine Arts.
25 Percent of Tuition Fee for BBA, BSCS BS Telecom, BS Public Health and BS Engineering Technology.
100 Percent Tuition fee for disabled students.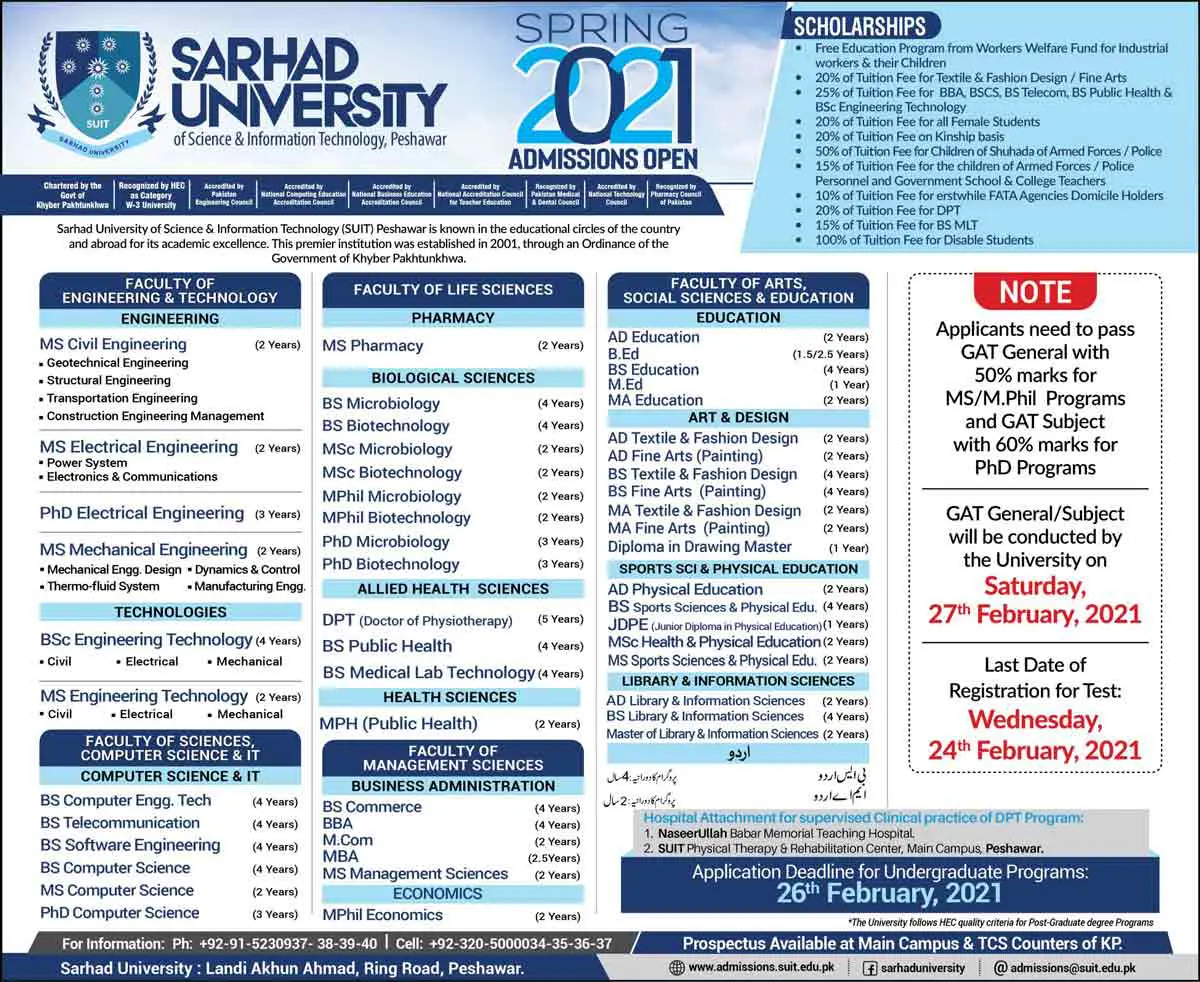 SUIT Programs:
SUIT open admissions in BSC Engineering and Technology 4 years, 8 Semesters, B.Tech 4 Years, 8 Semester.
Civil
Electrical
Mechanical
Electronics and Telecom
Eligibility:
FSC Pre Engineering, Computer Science, DAE
Intermediate with at least 45% Marks or A-Levels (22 Points) with Equivalency Certificate from IBCC Islamabad or an equivalent certificate from a recognized institution are eligible to apply.
Program
DPT
MSC
BS
ADB
B.com
M.com
BBA
MBF
AD Education
M.Ed
DOM
JDPE
MSC
Engineering Programs:
Civil Engineering
Mechanical Engineering
Electrical Engineering
Technologies
Graduate Programs:
BS-CS
Bachelor of Science in Computer Science
BS CET
Bachelor of Science in
Computer Engineering Technology
BS-Telecommunication
Bachelor of Science in Telecommunication
BS-SE
Bachelor of Science in Software Engineering
BS Electronics
Bachelor of Science in Electronics
Master Programs:
MSc Telecommunication
Master of Science in Telecommunication
MCS
Master of Computer Science
MSc Electronics
Master of Science in Electronics
Msc Chemistry
Master of Science in Chemistry
Business Administration Programs:
ADBA
Associate Degree in Business Administration
BBS
(Bachelor of Business Studies)
MBF
(Master of Banking & Finance)
B.Com
(Bachelor of Commerce)
M.Com
(Master of Commerce)
BBA
(Bachelor of Business Administration)
AD Commerce
Associate Degree in Commerce
Its weekend and/or evening Program, Classes will be commenced from
University Main Campus at Landi Akhun Ahmed, Ring Road, Peshawar Pakistan.
To seek association of high caliber faculty with enthusiasm of developing student's attitude and enabling them to acquire professional knowledge for self-building. Inspire students for learning managerial skills thereby strengthening their professional command. Prepare students for meeting emerging business and entrepreneurial challenges at global level. Building confidence among the students for independently undertaking responsibilities of organizational success with proven ability.
This program aims at producing students with diverse potentials of working as line managers characterized by quick market adaptability in the fluid market, should have the core business knowledge and its application in an integrative manner to business problems, could recognize the need to adapt business practices to the opportunities and challenges of an evolving local and global business environment, ethically sound and have the abilities to identify, evaluate, analyze, interpret and apply information to address problems in a professional and ethical manner with the context of the business, sound in communication, be capable of working in team and could make basic investment and financing decisions for a business using financial management concepts, and methods.
New Spring 2021 Post Graduate fee structure: Download Here
 Spring 2021 Undergraduate fee structure: Download Here