Reon Summer Internship 2019 Supply Chain Management for Engineering Students.
Reons energy solutions offering summer internship program session 2018 for field supply chain management for engineering students.
Reons energy solutions is a part of dawood Hercules group and one of the leading EPC energy procurement and construction company in Pakistan that delivers cost environment friendly solar power solutions.
It's a paid summer internship program.
Internship duration: 06 weeks and almost one month.
Stipend Amount: 15,000/-
How to submit application form:
The interested and eligible candidates may submit their internship application form with resume CV to Ayesha.waseem@dawoodhercules.com
Today is last date to submit internship application forms and the last date till office close time.
Read Also: Suparco Summer Internship Program 2019 Application Deadline
Eligibility criteria:
Mechanical or civil engineering completed or final year student can submit resume.
Minimum CGPA 3.0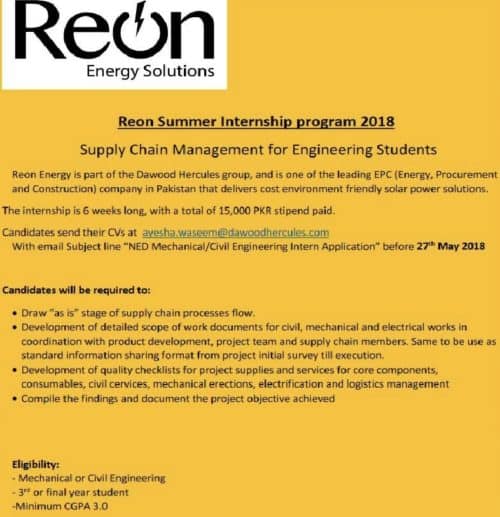 Candidates will be required to:
Draw as is stage of supply chain processes flow.
Development of detailed scope of work documents for civil, mechanical and electrical works in Coordination with product development, project team and supply chain members. Same to be used as Standard information sharing format from project initial survey till execution.
Development of quality checklists for project supplies and services for core components, consumables, civil services, mechanical erections, electrification and logistics management
Compile the findings and document the project objective achieved