Wait over, Rabtt starts taking fellowship applications from university students, who want to make their career in teaching field can submit application form online session 2019.
Last Date for Submission of Application Form:
Rabtt Fellowship Program is an opportunity for university students interested in teaching and serving their community. The one year program allows fellows to serve as educators and administrators, where they can actively become involved with public and low cost private school students through teaching and taking up other operational responsibilities during the Rabtt Summer Camps and Rabtt Workshops. Our fellows commit themselves to becoming better leaders and thorough professionals, while supporting the leadership development of their students as well.  The fellowship offers continuous personal growth while working towards a brighter future for the next generation where they build life-long bonds with children that go beyond the typical student-teacher relationship. Fellows get a chance to view life from the other end of the spectrum, leading to new insights, experiences, developing empathy, tolerance and a human connection.
How to submit Online Application Form: Click Here
For further queries write to us at [email protected]
Official Link: Click Here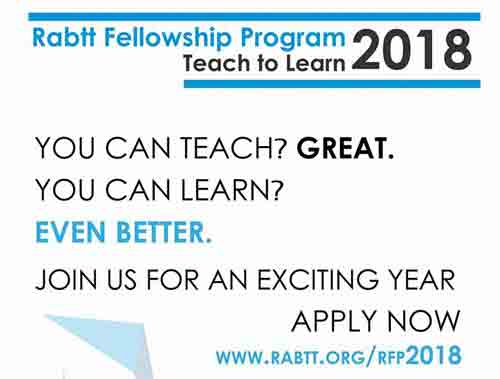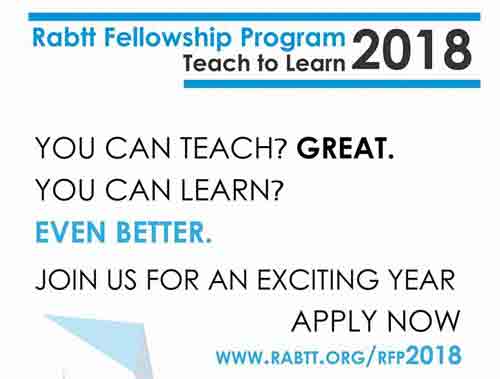 A stimulating journey towards a more empathetic and tolerant Pakistan.
The massive contentment of helping children, as well as learning from them.
New skills, greater self-confidence, a better understanding of our education system, valuable personal and professional growth.
A recommendation/fellowship certificate on the successful completion of the program.
And most importantly, an extraordinary, never-to-be-forgotten experience
Rabtt fellowship training is an opportunity for fellows to explore themselves as persons of great talent and intellect. The idea is to bring individuals of great capabilities on one platform where they learn and unlearn through communal experience. These training are not only aimed at instilling Empathy, Creativity, Confidence and Critical Thinking, but also focus of developing hard skills such as Leadership and communication which are geared towards playing a vital role in personal and professional life.