Quetta Institute of Medical Sciences Admission 2018 in MBBS
Quetta Institute of Medical Sciences open admissions in MBBS and Bsc Nursing for session 2016, its announcement from Quetta institute of medical sciences Quetta that Balochistan and All Provinces with GilGat balistan, and Azad Kashmiri students can submit their admission forms before due date. The Entry Test will be held at National Institute of Medical sciences Rawalpindi. For taking Entry Tests national testing service will be take entry tests from MBBS and Bsc Nursing applicants though proper channel.
More About Entry Test in Rawalpindi: [button link="http://www.learningall.com/national-university-of-medical-sciences-admission-entry-test-result/" size="large" color="pink"]National University of Medical Sciences Admission 2018 Entry Test Result[/button]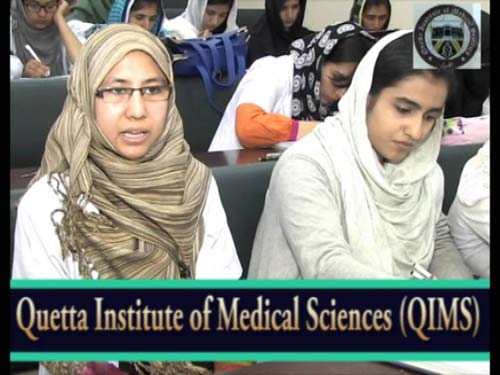 Documents Required.
Matric / 'O' level certificate with marks sheet (2 Copies).
FSc / 'A' level certificate with marks sheet (2 Copies).
Local / Domicile Certificate (2 Copies).
CNIC / Form 'B' (2 Copies).
Passport size & ID card size photographs (3 each).
Result of entry Test.
Admission process fee in shape of Bank Draft / Pay Order payable to QIMS.
Income certificate, income tax return, pension book, other documents as proof of income (for subsidized category only) duly signed by Deputy Commissioner of concerned district.
Departmental Certificate for shuhada, Army Personnel & LEA Category's.
Attested photocopies of passport(for foreign students).
NTS Will take first test at Rawalpindi on dated: 07 August 2016 and second test of Entry Test will be held on dated 18 September 2017 and the centre of entry test will be at Rawalpindi.
It's requested to all students who want to apply for first entry test the last date of submission of admission forms is 15 July 2017 and for participation of second entry test the last date for MBBS and Bsc Nursing applicants will be 26 August 2017.
All applicants must be apply and get entry test in first to become select early and 2nd entry test and the selected candidates will be on merit. Its warning to all students that no nay other test will be held other than NTS so be careful and give your entry tests though NTS to become available to get admission in Quetta institute of medical sciences Quetta Balochistan.
Induction of new batch will commence in Decemember 2016 and the Academic session of new batch (6th batch) at QIMS will commence in January 2016. Students & parents are required to read the prospectus carefully before filling the admission forms.
Selection Criteria
Qualification.
Minimum qualification for a candidate for admission to MBBS course is FSc (Pre Medical).Marks. The applicant must obtain at least 60% unadjusted marks in FSc (Pre Medical) / equivalent examination as per PMDC rules.
Foreign Qualification Applicants having passed examination of foreign university / examining body must produce equivalence certificate from Chairman Inter-Board Committee (IBC) Islamabad or Balochistan Board.
Admission Policy
Initially all admissions will be provisional.
Any candidate whose particulars, documents, authentication is found doubtful, fabricated or false will have his / her admission cancelled and will not be entitled to claim any refund whatsoever. If a candidate once selected for admission in QIMS wishes to leave the institution before the start of 1st year MBBS classes then there shall be 100% refund of all deposited fees except for the one time admission fee. If the candidate leaves the institute within 1 month from the date of commencement of 1st year MBBS classes whether he/she attends the classes or not during this period then there shall be 50% refund of the deposited fee except one time admission fee. No fee will be refundable thereafter. The academic activities start with one week orientation classes which are mandatory and part of MBBS course. If a seat in any category falls vacant it will be filled by next candidate on the merit list of same category. In case the adjusted marks of two candidates are equal the candidate securing higher marks in entry test shall be ranked higher on merit. If entry test marks are also equal the candidates securing higher marks in FSc will be ranked higher on merit. If all criteria are equal individual with higher age will be selected. Foreign applicant(s) seeking admission in 1st year MBBS, who are foreign residents abroad and are unable to appear in entry test in Pakistan are required to take the Scholastic Aptitude Test (SAT-I & SAT-II) or Medical College Admission Test (MCAT) as applicable. Students whose names are "STUCK OFF" from other medical colleges an account of failure to qualify first and Second Prof examinations after availing all admissible chances will not be eligible for migration or fresh admission in QIMS. If at any stage it is proved that any candidate has been admitted on the basis of false /incorrect document or information, his / her admission will be cancelled and all fees paid will be forfeited. (Last date of objection is within 15 days in any category).
Open Merit Category (60 Seats).
Candidates applying for open merit seats will not be considered for subsidized seats.
Residents of Balochistan ─ 48 Seats (80%)
Residents of Rest of the Country ─ 12 Seats (20%)
Subsidized Category (20 Seats)
Candidates applying for subsidized seats will not be considered for Open Merit.
These seats are subject to availability of 80% subsidy by Government of Balochistan & 20 % of annual fee deposit by the selected candidate.
18 seats are distributed on Divisional Merit ( 3 seats/Division-18 Seats)
Quetta Division
Sibi Division
Naseerabad Division
Kalat Division
Zhob Division
Makran Division
Foreign Students (10 Seats).
Reserved for Overseas Pakistanis/ Foreign Nationals.
Only those overseas students will be allowed admission in QIMS who's parents/ legal guardians (not   relatives) reside in a foreign country for job/business purpose and should produce their passport and work permit.
Afghan Foreign students are required to be confirmed by Afghan Consulate prior to admission.
Admission Process.
Induction of new batch will commence in October/November. Admission will be conducted as per following process:
Only prospectus / admission forms for the current year will be valid for fresh admission in QIMS. Prospectus fee will be as under:
Prospectus Fee
Entrance Test Fee (will not be charged from candidates who produce receipt of fee deposited for Entrance Test along with BMC registration)
Entrance Test.
Single entrance test will be conducted under the provincial admission authorities for both public sector and private sector medical colleges (Incase the QIMS is affiliated with National University of Medical Sciences Islamabad (NUMS) a separate entry test for QIMS will be conducted). Students applying from other provinces are not required to appear in entrance test conducted in Balochistan. They have to appear in entry test of their home province and have to produce their entrance test result for admission in QIMS.
Admission Fee & Tuition Fee:
Students are required to make all payments through Bank Draft or Pay Order only, payable to QIMS. Admission fee will be charged (only once) at the time of admission.
Final Selection Letter:
Final selection letter will be issued on submission of admission form along with all documents (in original) and payment of all dues. Payment of admission fee and tuition fee in instalments will not be accepted (except in special cases as mentioned in fee structure policy)
Student Registration
Lists of students admitted in the QIMS will be submitted by the QIMS authorities to PM&DC and UoB for their provisional registration immediately after finalization of admission.
Registration with PM&DC, Students will be required to fill PM&DC Registration Form and will complete its formalities along with registration fee.
Registration with University of Balochistan, Student will be required to fill UoB Registration Form and will complete its formalities. It is the responsibility of the selected candidates to cancel their registration with other Universities if any, prior to their registration as QIMS medical student by the University of Balcohistan.
Students Membership
Hostel Membership, Students desiring hostel accommodation must fill hostel allotment form and submit hostel fee in shape of Demand Draft / Pay Order in favor of QIMS. Hostel allotment will be made as per SOP on the subject only after deposit of hostel dues.
Library Membership, to avail the facility of library student will complete the library membership form and will submit to concerned department. Cantt Entry Pass Students admitted in the QIMS will be issued Can't Entry Pass form for the convenience of student.
Student ID Card. Student ID card form will be issued by Student Affairs through IT & Telecom Department.