Punjab government regularly distributing cash in these days to poor and needy people of Punjab, government of Punjab and working with federal government to get reach poor people. The government is providing fix AID money Rs. 12000/- if anybody gets less that this can complain government of Punjab.
How to get money:
Original and Valid National ID card
Verified Mobile Number on own ID Card.
Thumb (biometric) Verification from NADRA
SMS National ID Card to 8171
Punjab Ehsaas Emergency Cash program is a zakat fund program that is only for poor people so following people are not eligible to get Rs. 12000/-
not eligible for cash Program:
Government Employees
Owner of Land / House
Car Owner
All verification Messages / SMS will be receives only from Mobile SMS Service 8171. All messages from other mobile numbers will be consider fake.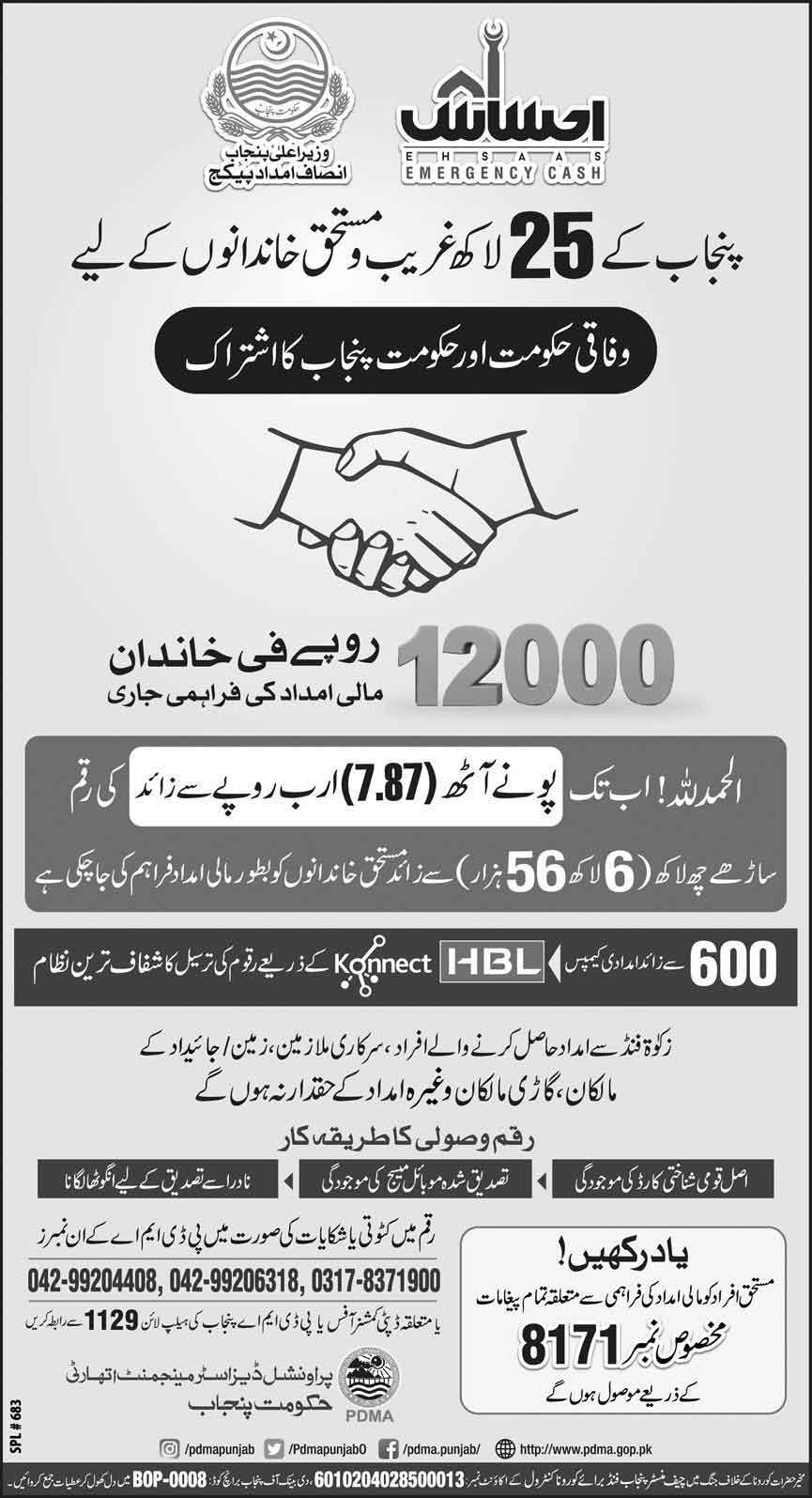 If any government official deduct money from your balance or you receive money less than Rs. 12000/- you can complain on following numbers:
Punjab Ehsaas Emergency Cash Complain Help Line Number:
042-99204408
042-99206318
0317-8371900
Deputy Commissioner Officer / PDMA (Provincial Disaster management Authority) Punjab help line number: 1129
Corona Virus update form Punjab on date 21 May 2020
Confirm Corona virus cases in Punjab is 17,382
Recovered: 5,112/-
Deaths: 297/-
Quarantine: 3927/-
Suspected: 55,828/-
Cases in last 24 Hours: 697
Death in last 24 Hours: 8
Punjab Ehsaas Emergency Cash Program 2020 SMS Service 8171
Apply Here Online: