PSRD Institute of Paramedical Education Lahore Admissions open BSc Hons occupational therapy, B.Sc-OT 4 years, BSC Hons speech and language pathology BSC SLP and Doctor of physical Therapy DPT 5 years program.
Eligibility for B.Sc-OT:
FSC Pre Medical with minimum 50% marks.
Eligibility for BSC SLP:
FSC Pre Medical with 50 percent marks minimum.
Eligibility for DPT:
F.SC Pre Medical with minimum 60 percent marks.
PSRD College of rehabilitation sciences affiliate with university of health sciences UHS Lahore open admissions in doctor of physical therapy DPT (5 years) the candidates who want to apply in this program requires passing matric F.sc with 60% marks.
Admissions also open in B.sc-OT BS hons occupational therapy
The merit base scholarships also offer to right candidates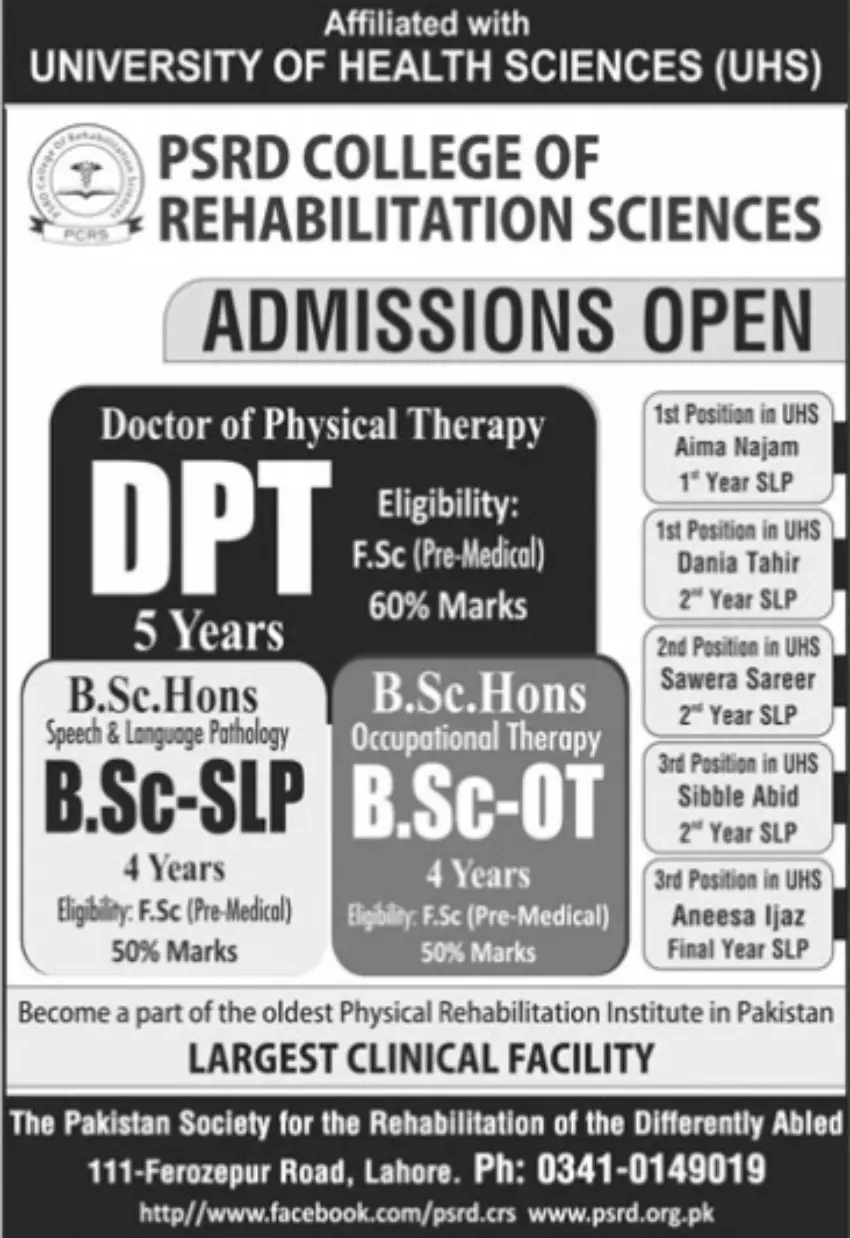 College of Rehabilitation Sciences Positions:
3rd and 2nd in UHS Fiza Shahid year session 2023 DPT Program.
2nd Position in UHS Hamna shakeel year 2023 B.Sc SLP Program
2nd Position in UHS Hafiza warda shaheen year 2023 DPT Program.
1st Position in UHS hira Jamil year 2023 B.Sc SLP Program
3rd Position in UHS Faiqa Saleem year session 2023 BSC SLP Program.
PSRD College of Rehabilitation Sciences Lahore is attached with Jinnah Hospital Children Hospital 2nd Largest Hospital in Punjab for Clinical Education.
The Pakistan Society for the Rehabilitation of the disabled 111-Ferozpur Road, Lahore.
Phone Numbers: 042-37502052 and Mobile Number: 0341-0149019
Email address: [email protected] websites www.pcrs.edu.pk and www.psrd.org.pk