Prime Minister of Pakistan announced Fee Reimbursement Scheme for Selected less developed areas. Federal finance minister Mohammad Ishaq Dar has been announced Fee Reimbursement Scheme today dated 21 May 2018. It's a really good step from Federal Government of Pakistan to promote educational activities in Pakistan. Less developed cities and villages students can take benefits from this scheme. Government of Pakistan will be bear all tuition fee of the student, who are eligible and selected for this scheme. Fee Reimbursement Scheme announced today at Quetta Baluchistan, because Baluchistan is a less develop areas.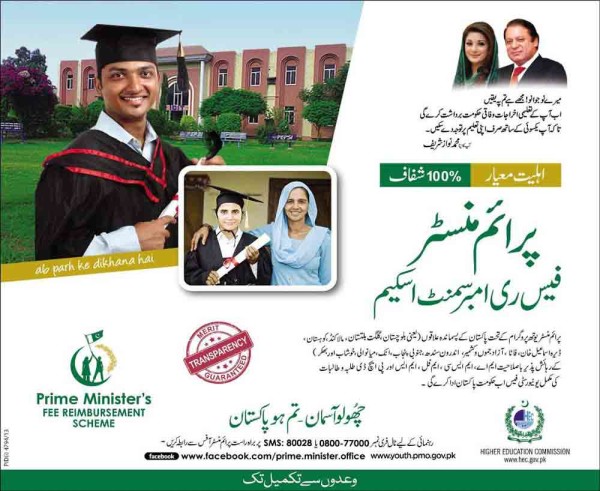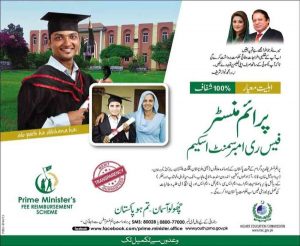 Maryam Nawaz said that he scheme is aimed to encourage those students who want to study for graduate and master level programs butt due to financial programs they can't afford to complete education. The talented students from less developed areas will be got 100 percent free education from top level universities of Pakistan. The chairperson of youth Programme more said that our top priority for those areas who are neglected in past especially for Baluchistan.
According to this scheme government will be covered more than 35000 post graduate students across Pakistan.
PM Free Education Selected Areas
All students who have registered for master or PhD programs from higher education commission in areas Sindh, Soutern Punjab, (DG Khan, Bahawalpur, Multan, Balochistan less developed areas, KPK (Kohistan, DI Khan, Malakand, GB and FATA students are eligible for Fee Reimbursement Scheme 2018, from these above areas Government of Pakistan will bear all education expenses.
Financial Coverage of the Scheme:
Actual Tuition Fee (of Masters, MS/MPhil and PhD programs)
On and Off Mandatory charges which includes Registration Fee/Enrollment Fee, Admission fee (For new admissions only), Examination Fee, Library charges(non-refundable), Laboratory charges, Research related academic activities only.
Non study related heads like transport fee, hostel fee, Sports fee, Endowment Fund, Equipment Fee, Health Fee or Any Refundable dues will not be paid.
Approved Study Duration in which Student can get financial benefit under the Scheme
​Programs             Maximum duration
MA/M.Sc             2 years
MBA      3.5 Years
MS/MPhil            2 Years
MS/M.Phil (Medical Universities)             2 Years minimum -3 maximum Years
Ph.D      4 Years
​*Study duration is counted from the start/commencement of the classes. If duration exceeds from the start of classes, student will not be reimbursed the payment.