PMC MDCAT Registration 2020 NTS Date | How to Apply Online
Pakistan medical commission (PMC) open online registration for MDCAT Session 2020-2021. The MDCAT Test will be held on date 15 November 2020. PMC announced detailed application procedures for MDCAT registration. PMC also announced the MDCAT Syllabus and Entry Test Sample paper recently. The Students rejected the syllabus that is announced by PMC. The students who want to take admission in MBBS and BDS blaming PMC over announcement of Syllabus just one month before MDCAT entry test.
PMC MDCAT Registration:
Today PMC open online registration and the last date to submit online registration is 2 November 2020. So the time for students is only for one week.
The registration will be through NTS (National Testing Service), the students can registered through pmc.gov.pk or nts.org.pk/PMC and fill the application form online.
Please follow these steps after registration.
Step 1: Save your application.
Step 2: Print fee challan.
Step 3: Upload paid fee challan.
Step 4: Final submit your application.
Step 5: Print your application and send signed copy via courier.
PMC MDCAT Schedule:
Online Registration open from Date: 22 October 2020
Last Date to submit online Application Form: 02 November 2020
MDCAT Entry Test Will be held on date: 15 November 2020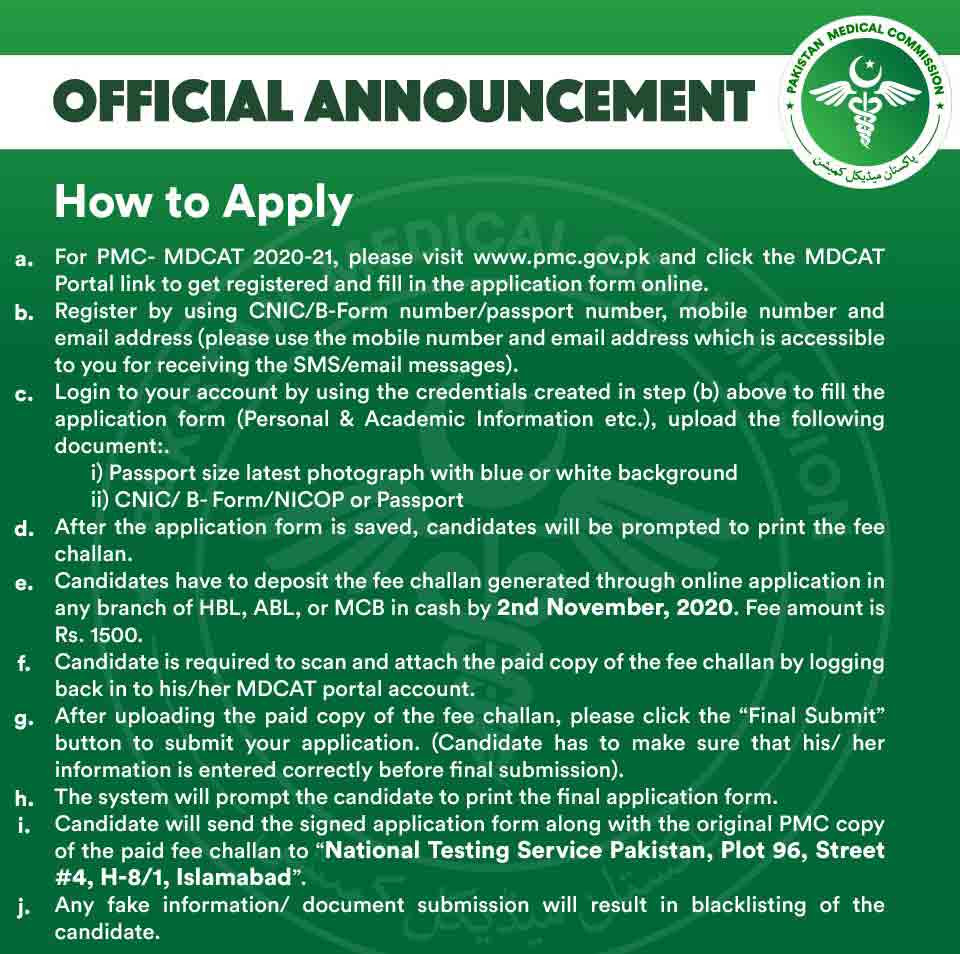 PMC Deposit Challan:
The Officials of PMC said that: All Applicants of National MDCAT 2020-21 are required to deposit the application fee only in favor of Pakistan Medical Commission on the prescribed challan. Previously deposited challans in favor of any other entity/organization will not be accepted.
A special PMC committee has been formed to deliberate with postgraduate students associations, CPSP, post graduate institutes and universities to finalize a national policy regarding working hours of postgraduate students subject to requisite teaching hours as well.
A student may seek transfer from one college to another at any time, subject to rules of transfer imposed by the relevant university of both the leaving and receiving college.
PMC will not regulate the transfer of students.
How to apply online NTS:
For online registration students can go to pmc.gov.pk and click MDCAT online portal that will go to nts.org.pk/PMC than register and submit application form online.
Registration is open by using CNIC/B-Form number/passport number; mobile number and email address (please use the mobile number and email address which is acceptable to you for receiving the SMS/ email message.
The login details will be sent through email, after that login to your account by using the username and password above to fill the application form (personal and educational information) students have to upload educational certificates online.
Passport size latest photograph with blue and white background.
CNIC/B Form / NICOP or passport.
After save the online application form, students must submit Fee challan.
Candidates have to deposit the fee challan generated through online application in any branch of HBL (habib bank limited), ABL or MCB (Muslim commercial bank limited) before date 02 November 2020.
Students are required to scan and attach the paid copy of the fee challan by logging back in to his/her MDCAT Portal Account.
The challan Form after submitting fees to bank, must be attached and submit the final Application form online.
The system will give the facility to the students to download application form. These form candidates must be send through courier with Signature and copy of Challan form to National Testing Services Pakistan Plot No. 96 Street #4 h-8/1 Islamabad.
For MDCAT Queries:    Email: mdcat2020@pmc.gov.pk    Phone: 051-8855000
Download Syllabus and Test Paper:
PMC National MDCAT Syllabus 2020 Paper Entry Test Date