Waste Busters starts working with government of Punjab Clean Pakistan and provides business opportunities for talented Pakistani youth. Prime minister Business Loan Scheme with joint venture Waste Buster, National bank of Pakistan, and Telenor starts working together. Clean Pakistan an unbelievable life changing opportunities across Pakistan.
Safai se Karobar Banao Paisa Kamao
Become the owner of the profitable water collection selling and recycling business. Upto 20 Lac loan available through NBP National bank of Pakistan under prime minster Youth Loan Programme.
Earn monthly profits of up to PKR 100,000/- with the help of experienced business methods.
Get support of international standardized trainings and marketing services.
Unique opportunities of 500 passionate young across Pakistan to become Eco preneur.
Eligibility:
Applicants must be over 18 years of age
Minimum education requirement for the applicant is Matriculation
The Applicant must be a Pakistani Citizen
The Applicant must have a valid CNIC
Clean Pakistan is a private sector initiative of Waste Busters and is supported by the Prime Ministers Youth Program and the National Bank of Pakistan.
The Prime Ministers Youth Program and the National Bank of Pakistan take no fees/charges for their support and services.
The Registration fee of Rs. 5,000 is being charged by the Waste Busters against costs incurred on the launch of this program, a business plan and feasibility report.
The Applicants shall be selected solely on merit under the selection criteria laid out by the Waste Busters, PYMP and the NBP.
Registered Applicants shall get a Unique Access Code after payment of the Rs. 5,000/ registration fees.
The Unique Access Code can be used to login and get detailed business plan, feasibility report, franchise application and Loan Application.
Apply Online Now: Click Here
Waster Buster gives training for 500 young persons; Waste Busters (WB) is an independent waste management and janitorial contractor with emphasis on the solution for waste management problems. Quality, service, value, and innovation are what drive us. From human resources to trainings and meeting new technical, health and safety standards — we lead the way. We invite you to consider the advantages we bring to every client. For information about waster buster wastebusters.com.pk.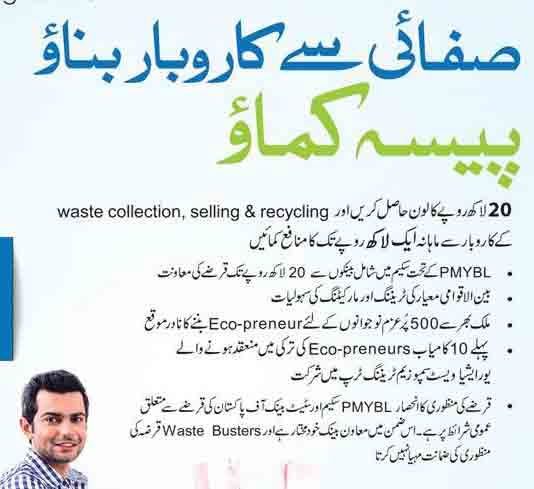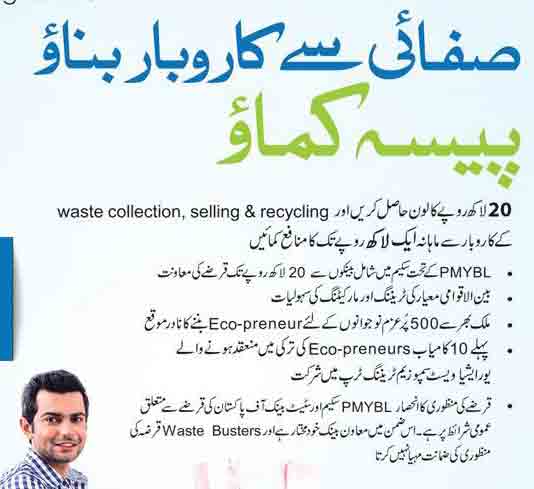 Waste Busters has embarked upon sharing its knowledge and experience with others who would like to benefit from this new evolving industry of waste management in Pakistan.
It has launched the "CLEAN PAKISTAN" program with the support of the Prime Minister's Youth Program in the entire country to achieve its goal of making Pakistan a pollution free country while using waste as a resource to earn income.
Pakistan today produces over 50,000 Tons of garbage every day from households alone. Only 60% of this garbage is being collected which means over 20,000 Tons of garbage is left on the streets and open areas, clogging our drains, sewerage systems causing severe environmental and health hazards.
Waste Busters has taken the lead in combating this alarming situation by coming up with a concept which would not only take care of the pollution being created but also generate over 15,000 jobs and an entire new industry of waste management and recycling in Pakistan.
The "Clean Pakistan" Program has been launched by the Waste Busters with support from the Prime Minister's Youth Program (PMYP) through financing made available for eligible and qualified "Ecopreneurs" who would apply for and get a Franchise of Waste Busters for implementing this program in their local Union Council.
The project has been envisaged to spread all over Pakistan using the methodology and training provided by the Waste Busters for garbage collection and recycling of waste to generate revenue for the "Ecopreneur" who would be the local franchisee of Waste Busters.
The Ecopreneurs who would be selected through a qualification process would become eligible for financial assistance in terms of a soft loan made available to them through the National Bank of Pakistan for up to Rs. 20 lacs.
This Loan would be repayable at a special 6% interest rate and payable in 8 years as per the terms of the Prime Minister's Youth Loan Program. The repayment schedule for the Loan would commence after the first year.
Repayment of the Loan and income generation from this franchise model is estimated to be Rs. 100,000 per month as profit after payment of all expenses. The Financial model and details of the project cash flows are given to the applicants who have registered with the program.
Read Also:Bolan Suzuki Apna Business Scheme