Pakistan institute for conflict and security studies PICSS Islamabad offering summer internship opportunity to graduate students session 2019.
How to apply:
To apply, simply send your resume at [email protected] or [email protected] and wait for the interview call/email/SMS. Shortlisted candidates will be called for interview and subsequent selection will get them enrolled into summer internship.
Last date for submission of Summer Internship Program 08 July 2019
Internship Duration: 02 Months
Eligibility criteria:
The students and graduate of social sciences BS, Masters and M.Phil Programs from recognized university male and female candidates are encouraged to apply for summer internship program.
Address :
Postal Address: House No.423-A,Street No.1,F-11/1 Islamabad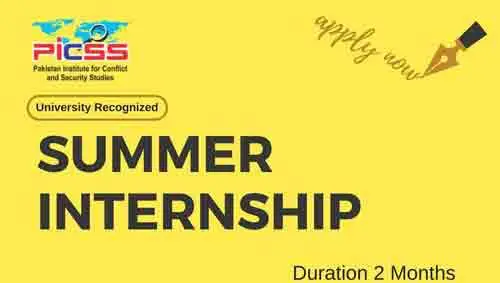 It's a wonderful opportunity for graduate and master level students to avail summer internship in Islamabad. Pakistan institute for conflict and security studies Islamabad.
PICSS is organized around the following departments:
Research Division
Statistics and Database Division
Counter-Radicalization Division
Security Reports Division
Event Management Division
Advocacy Programs Division
Online Information Dissemination Division
Printed Material Production Division