Petrol Diesel Price Increase in Pakistan Latest Fixed Rate
Government of Pakistan PTI Government increased the fuel prices from today date 26 June 2020. The official notification of petrol and diesel has been issued by Pakistan oilfields limited POL. According to latest fixed rate price increasing by 25.58 and now the rate is 100.10 per liter and high speed diesel HSD increased by 21.31 and the fix new rate is 101.46 per liter and superior kerosene Oil SKO rate increased by 23.5 and latest new rate is 59.06 ad light diesel oil rate increased by 17.84 and the fix new rate is 55.98.
Below Rates are implementing from today date 26-06-2020
Petrol: Pakistan Rupees 100.10/- per liter
Diesel: PKR 101.46 per liter
Government of Pakistan finance department press release Islamabad today date 26-June-2020
The government has decided to revise the existing prices of Petroleum products in view of the rising oil prices trend in the global market.
Read Also:
Pakistan Oilfields Limited Internship Program 2020 Application Deadline
The new prices effective from today 26-06-2020 are as follows.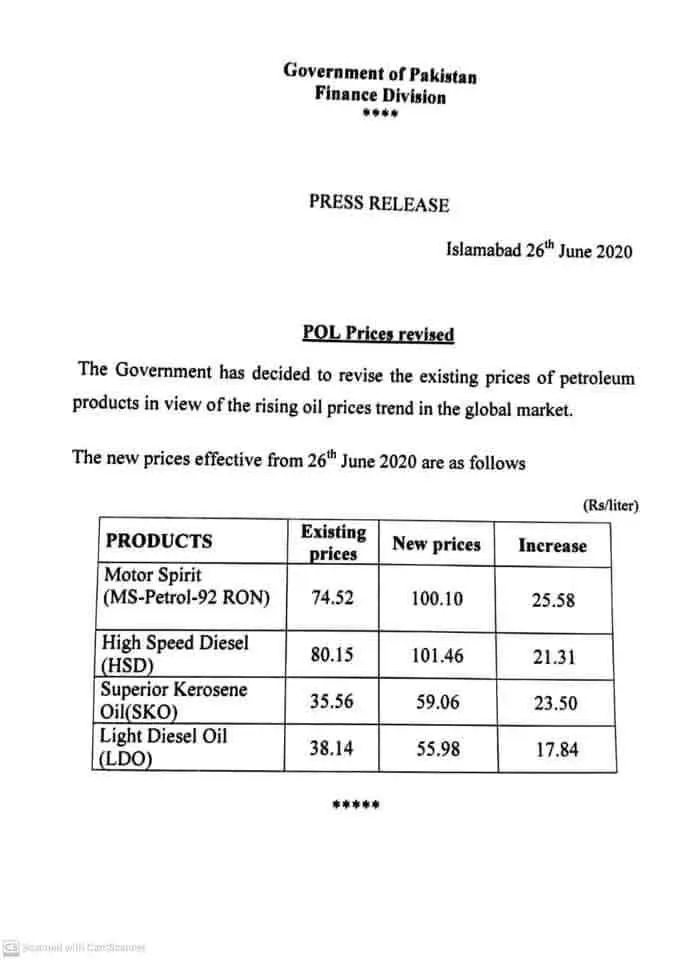 Read Also: