Peshawar Local School Principal Gets 105 Years in Jail for Child Abuse
Principal of Local private school in Peshawar kpk, Pakistan was arrested on date 14 July 2017 for abuse child case. Today date 31 October 2018 session judge of Peshawar Younis khan listen the case and give the final decision against school principal.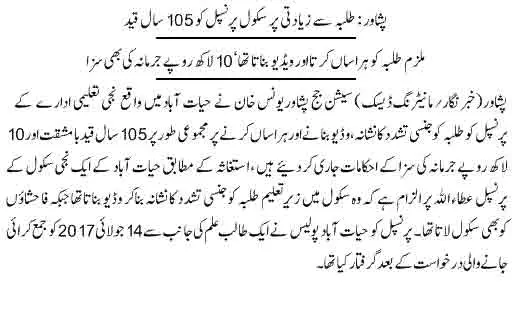 The School Principal Hayatabad Peshawar school will be remain in prison for 105 years and give the penalty of Rs. 10 hundred thousand, the case was registered against college principal in seven month of year 2017, Now the Judge hear the case from both parties and find principal guilty and charge of child abuse, pornography, rape and blackmail and maintaining illicit relations.
The school principal name is Attaullah Marwat, the convict has allegedly on multiple occasions and habitually enticed and compelled multiple women of different ages to have illicit relations with him inside the school.