PEF arranges training for Cholistani teachers
The Punjab Education Foundation (PEF) has completed two training sessions for the teaching staff of 75 community schools run by Cholistan Development Authority (CDA). The PEF provided funds and trainer under an MOU signed to provided free quality education to about 5,000 male and female students enrolled in these schools, situated in far-flung and remote areas of Cholistan desert in Bahawalpur division.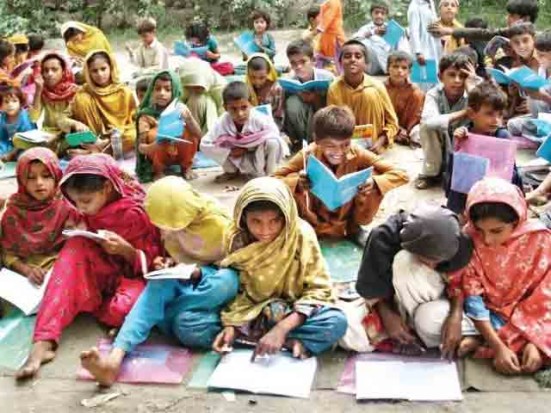 These training sessions were developed and conducted by PEF Assistant Director Rasheed Ahmed Phularwan who has vast experience in school improvement and conduction of school teachers' trainings and capacity building. Mr. Phularwan took samples from two randomly selected schools in each of the three districts (Bahawalnagar, Bahawalpur and Rahim Yar Khan) in the first phase to identify specific needs of these schools. He took 13 schools in Bahawalnagar, 17 in Rahim Yar Khan & 35 in Bahawalpur, and divided them in five clusters to hold a three-day orientation session for each cluster afterwards. He especially emphasized on fundamentals of Urdu, Math and English and also helped the teachers to correct terminologies of the teachers who belong to Cholistan and have had no access to modern trainings available in big cities.
It may be added here that Mr. Phularwan is visually impaired but this difficulty hasn't deterred him to travel to such remote areas in hot and humid weather conditions and help the teachers to improve their professional skills. Teachers traveled on public transport to attend these sessions from as far as 40 or 50 kilometers in deep desert. They expressed their satisfaction that now they will be able to teach in a better way. It is also expected that these trainings will help to improve the overall quality standards of these schools in a number of ways.
PEF is providing monthly fee to the CDA for these students; it has also given textbooks and held teachers' training to these community schools to help the local children to get quality education. These schools were partnered under New School Program (NSP) of the foundation which is aimed to allure private entrepreneurs in education-wise backward and remote areas to promote free schooling for the needy students. Punjab Government has also given Rs.150 million to the district administration to build 10 school buildings and provide necessary support to these schools.