Mujahid Force Jobs 2023 Training Course as Sipahi
The government of Pakistan's Army Mujahid Force starts taking Job application forms from Matric pass candidates. Matric degree holders of Pakistani nationality can submit the job application form starting today, July 1, 2023.
Eligibility Criteria
Matric Pass with age limit 18 to 30 years old Pakistani national holder Youth with a minimum height limit minimum 5 feet and 6 inch can submit Job application form for the post of Sipahi in Punjab Mujahid Force.
The training course will be start form date July 2023. The training class will be start from Feb 2020 till two months. After the training period the candidates will be hiring as permanent employee in Government of Pakistan and Salary package will be offered according to government rules and regulations.
Mujahid Force Lahore starts hiring from 01 July 2023 to 10 July 2023 at Muhid Abad Cantt Karachi.
Written Test and Physical Test will be held from date 11 July 2023 to 13 July 2023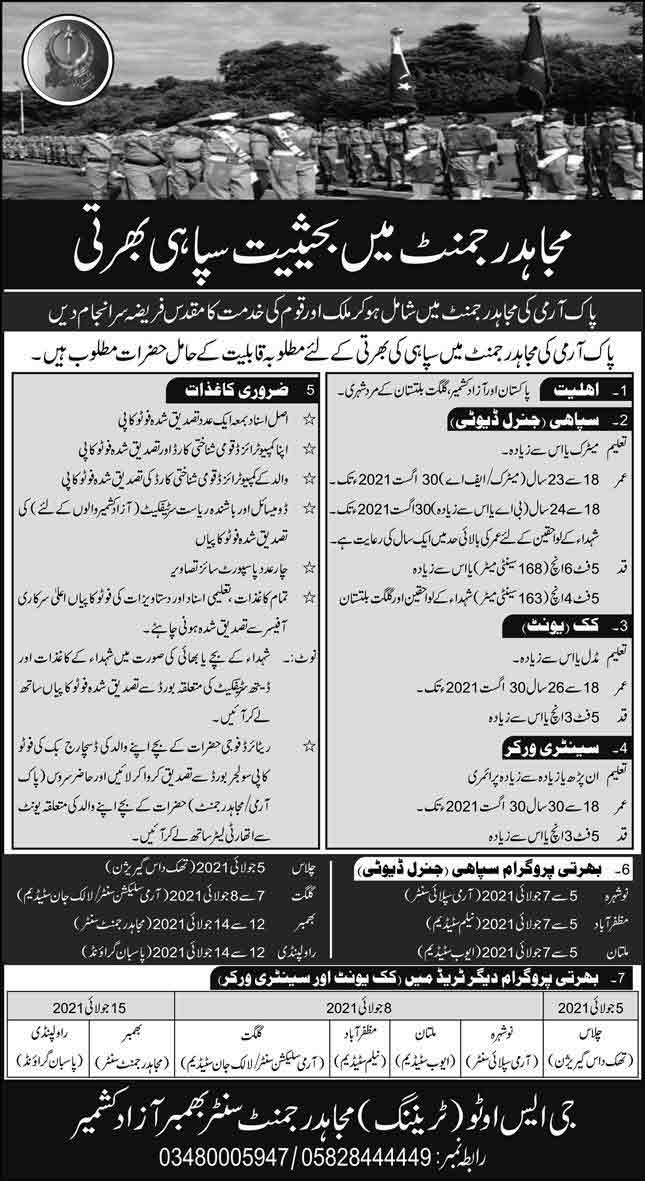 021. Medical will be held from Date 15 Feb 2023 to 19 July 2023.
Eligibility Criteria
The applicant having Matric Degree with Age limit 18 to 23 Years old till date 28 February 2023
Height of Applicant
Minimum 5 feet with 4 inch (5 feet 6 inch applicants will be preferred).
To Join Pakistan Mujahid Force Apply today and Join Training Classes in Lahore Cantt.
Training Address:
402 Samb C/O Brigade, Shami Road, Lahore Cantt.
Phone number: 0307-4114103
Apply Here Also: Mujahid Force Jobs 2023 Constable Interview Selection Center