Pakistan International School Riyadh ksa
Pakistan International School providing education activities for Pakistani as well as other students in Riyadh Saudi Arabia. Pakistan International School, Riyadh, is a community school in Riyadh, Saudi Arabia, established in 1968, primarily for the Pakistani community in Riyadh under the permission of the late King Faisal Bin Abdul Aziz Al-Saud. They will work toward grade-appropriate learning objectives through the use of appropriate resources and with consideration for learning modalities utilize resources and support provided by teachers and parents.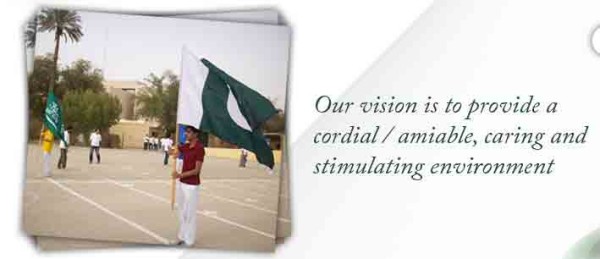 Admissions:
Eligibility
All Pakistani students with legal residential status (Iqama holders) can apply for the admission. Students must qualify the School Entrance Test.
Students coming from other schools in Saudi Arabia are required to submit previous School Leaving Certificate duly attested by the Ministry of Education. Other requirements are stated on admission form. Procedure for admission in PISES is as follows;
STEP 1 – Registration
Please register your child/children as per schedule announced by the school on yearly basis in School admission office. Registration will be done only for the classes where the vacancy is available.
STEP 2 – Entry Test
Admission will be subject to the Entrance Test result/ fulfilling of School criteria. Entry test will be conducted as notified by the school..
STEP 3 – Result Declaration
Entry test result will be displayed on announced dates in Admission office. No inquiries about the result are entertained before the result date & time.
STEP 4 – Document and Fee Submission
Parents of the successful candidates will be required to submit the fee and the following documents.
Admission Forms (Duly Filled)
Copy of the student's Birth Certificate.
Copy of the student's passport.
Copy of Residence Permit/ID (Iqama). If the Iqama is under process, please provide as soon as possible.
Copy of the student's Vaccination/ Immunization Certificate.
(2) Passport size photos of the student
Previous Reports Cards (if applicable/ not required for Nursery students).
If Students are coming from a school in Saudi Arabia, they must submit all official transcripts (duly attested by Ministry of Education in Saudi Arabia) ۔If Students are transferring from a school outside Saudi Arabia; their Report Cards & Transcripts must be authenticated by the Saudi Embassy in the country in which the student last attended the school.
A School Leaving Certificate from the previous school (stating the date of enrolment, the grade completed, the result at the end of that grade and the date of withdrawal).
Important Note:
PISES reserves the right to deny admission or continued education if documentation for admission has been falsified or withheld.
Please Contact Account Office for the payment of School Fees. Students will be allowed to join the class only after the payment of Admission Dues and Tuition Fee. Please see Fee Structure, Payment Terms & Conditions for further details.
Parents failing to deposit the fee according to the dates announced by the school will lose the seat, and admission will be offered to the next candidate in waiting list.
Contact School:
An Nasiriyah, Riyadh 12732
055 803 1785
P.O. Box 6891, Riyadh 11452, KSA, Tel. No: 01-4661072, 2792030, Fax: 01-4628905
Official Website: www.pisesriyadh.com