First time in Pakistan Government of Punjab Lahore ministry excise and taxation mian mujtaba shuja ur rehman starts vehicle online token taxes with online sms alert service. Due to this service the owners of vehicles who paid token fees to government of Punjab can get confirmation through SMS alert service.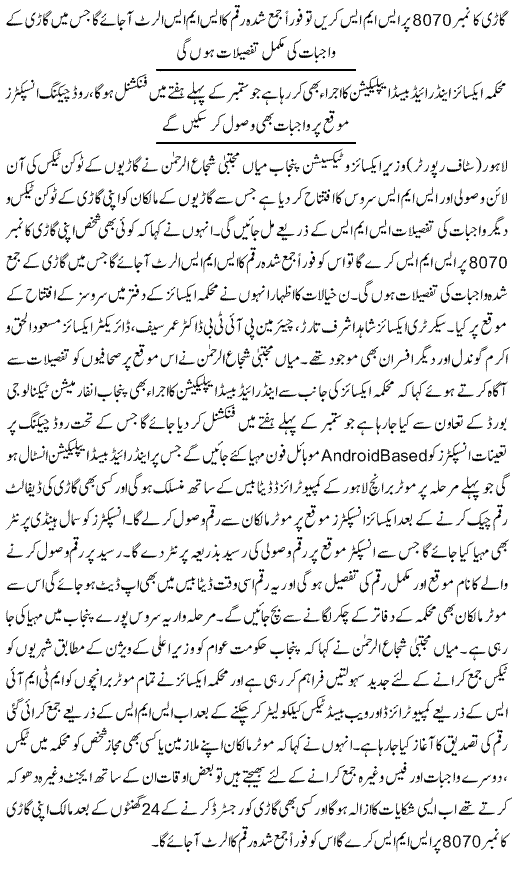 Thanks god government of Punjab takes this action because vehicle owners face a lot of problems due to paying through government departments, and if the deposit slip loss by the vehicle owner than this remains big problem because if you want duplicate deposit slip then you will be face problems from government staff.
FORM F – New Registration of Motor Vehicle
DRC Form – Duplicate Registration Certificate of Motor Vehicle
LTT Form – For the Payment of Life Time Token Tax of up to 1000cc Vehicles
DRC Form – Urdu Version
Application for Return of Files
the candidates may registered their vehicles though mtmis.punjab.gov.pk and check their vehicle details.
Contact us For Technical Assistance
Punjab Information Technology Board
Government of the Punjab
11th Floor, Arfa Software Technology Park
Ferozpur Road Lahore.
Regarding Motor Vehicle Registrations
Office of the Director, Excise & Taxation, Region C
2-A Fareed Kot House, Lahore
Excise & Taxation Punjab
Email: mtmis@punjab.gov.pk
Phone: (042)-99211400