NLC is offering paid short term internship Program against under mentioned disciplines at rawalpindi, Gujranwala, Lahore, Karachi, Quetta, Peshawar and Various setups of NLC. Interested candidates undergraduate, graduate, post graduate may visit home page of NLC website www.nlc.com.pk and diploma holders may submit their resumes through hard copy on following address before 10-09-2023.
Stipend. Merit based stipend will be offered to the internees. Payment of Stipend shall strictly be subject to 95 % minimum attendance.
Civil Engineering
Electrical Engineering
Mechanical Engineering
IT / Software Engineers
Human Resources
Marketing Department
Finance
Supply Chain Management
Technical Diploma Holders ( one year minimum for Civil, Mechanical, Electrical and Information Technology related.
Old Advertisement: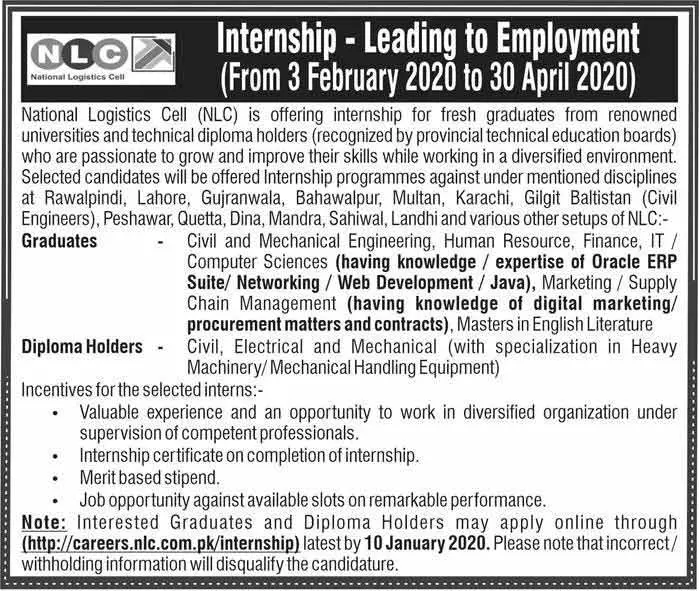 Read Also:
Nestle Internships 2023 Apply Online Pakistan Fresh Graduates
Last Date of Application: 10 January 2023
National logistics cell NLC is offering paid and unpaid Internship Opportunities for short term program. Internship Program under NCL will be held following city Centers:
Rawalpindi
Lahore
Karachi
Gujranwala
Bahawalpur
Multan
Peshawar
Quetta
Mandra
Sahiwal
Landhi
and various other cities of Pakistan for talented graduates to get training well.
NLC is a strategic development organization having business curiosity both at national and international arena and has achieved absolute distinction with its full blown professional designs up-to the entire satisfaction of its valuable clients.
Internship – Leading to Employment: (From 03 Feb 2023 to 30 April 2023)
In Addition Apply Here Also:
Airblue Internship program 2023 Apply Online Jobs
The Internship Classes will be start after
The Internship Program Offered by NLC:
HR, Human resources, marketing, finance, supply chain management, technical diploma holders minimum one year program for civil, mechanical, electrical, and IT related domains, software development training, IT engineers, Electric and Civil Engineering training will be start soon in NLC Centers.
National Logistics Cell (NLC) is an equal opportunity employer in all respects. The human resource capital is regarded as the most precious asset of the Company whose valuable contributions have determined the success and progress of the Organization since its inception.
How to apply:
The interested candidates who have done their graduate / post graduate degrees from recognized universities can apply online through official page of NLC www.careers.nlc.com.pk/internship
NLC Online Application Form: careers.nlc.com.pk
Diploma holder candidates may send their internship applications though hard copy on following address:
Interested candidates fulfilling criteria may apply CVs at [email protected] mentioning the subject by 10-01-2023.
Local Residents are preferred.
Apply Here Also:
Telenor Pakistan Internship Program 2023 Apply Online