Ministry of planning development and reform government of Pakistan national endowment scholarship for talent youth of Pakistan session 2020.
It's a wonderful opportunity for youth to take a loan from government of Pakistan and start their own business. Government of Pakistan wants to empowering youth that no one is leaving behind.
Interest Free Loan Scheme for the Students of Pakistan
This Qarz-e-hasna loan scheme is for Pakistani national even they are in Pakistan or overseas Pakistani master degree holders can also submit scholarship application form for qarz-e-hasna loan scheme session 2020.
Application deadline for submission online is 
National endowment scholarship for talent NEST a public sector non-profit organization announces financial assistance in the shape of interest free loan for deserving students have already secured admission in well reputed universities of the world but cannot proceed due to financial constraints.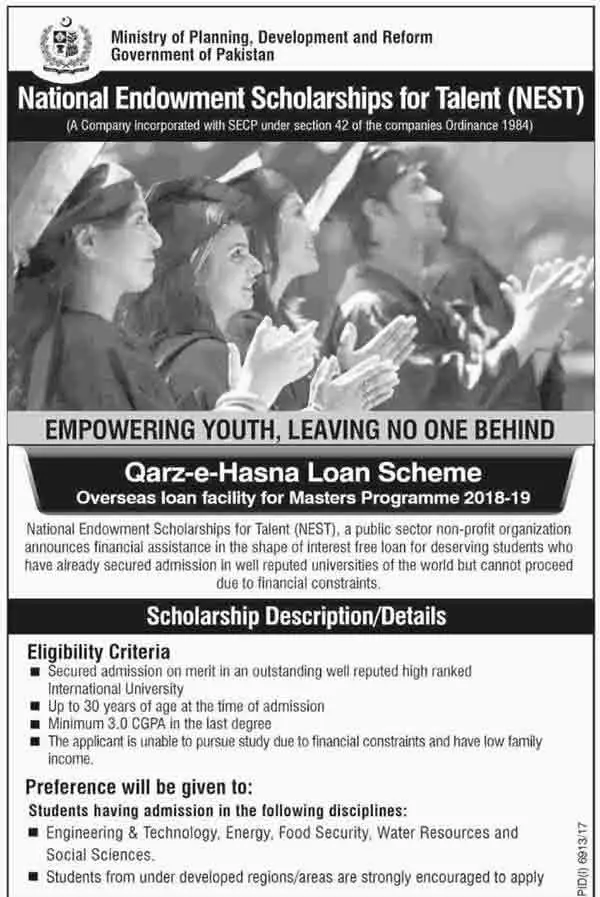 Eligibility criteria:
Passed Matriculation exams with at least 65% marks.
The applicant is a university student well reputed high ranked international university.
The age limit of applicant up to 30 years of age at the time of admission.
The students have 3.0 CGPA in the last degree.
The students whose from under developed or villages will be encourage to apply.
The applicant is unable to purse study due to financial constraints and have low family income.
The preference will be given to those students who have admission in following disciplines:
Engineering, technology, energy, food security, water resources and social sciences.
For further information about admission application form and other information can check official page of NEST www.nest.org.pk.
How to apply:
the students meeting the eligibility criteria should visit www.nest.org.pk and fill the online applications before. hard copies of the same, along with required documents will be requested from shortlisted candidates only.
Apply Here Also: Nursing Scholarships 2020 NEST Application Form