National college of Arts, Lahore is offering 06 months diploma & certificate courses in Post Graduate center for Multimedia Arts, Department of Film & Television, Department of Visual Communication Design and Department of Architecture. NCA Admissions for postgraduate programs postgraduate diplomas professional courses in traditional arts and design.
Last date for submission of forms is 05 July 2019
NCA starts taking admission applications from 15 December 2019 for Lahore and Rawalpindi Campuses. Applications for admission in NCA Lahore and Rawalpindi Campuses are invited on separate prescribed forms against reserved seats for domiciled Quota, Self Finance, and Self Support Scheme (All Pakistan Basis) for the province of Sindh.NCA Skill Development Programme Diploma & Certificate Courses
Entry Test Notification
Academic Session 2019
This is notified that entry test for Punjab ,Gilgit-Baltistan and Azad Jamu & Kashmir domiciled candidates Academic session 2019 will be held on 15th and 16th July 2019 at National College of Arts, 4-Shahrah-e-Quaid Azam, Lahore.
The applicants should bring their own Graphite Pencil, Eraser, Drawing Board, Colored Pencil, Markers, Scissors and Gums Stick etc
Admission Details and Complete Schedule for Session 2018-19:
PSDF 03 Months Short Courses free Training Vocational Courses.
National College of Arts, Lahore in collaboration with Punjab Skills Development Fund (PSDF) is offering 03 months short courses in
1. Wood Carving Lacquer & Polishing
2. Ceramics Design
Admissions Open – Academic Session 2019
Degree Programs Lahore Campus and Rawalpindi Campus
For candidates domiciled in province of Punjab, Gilgit – Baltistan & AJK and Self Support / Self Finance Scheme.
Admission Form link :
Admission Notice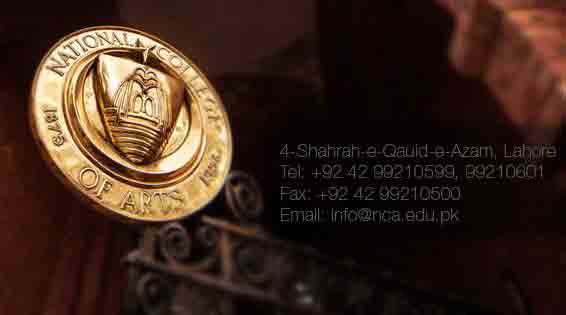 (Admission Test and Interview)
Admission test and interview of academic session (2019) program II and Self Finance / Self Sponsored Scheme academic session (2019) are postponed. New date will be announced soon.
National College of Arts NCA Admission Notice 2019
National College of Arts postgraduate center for multimedia arts admission notice for six months certificate courses. click here for admission form:
NCA Admission Form
Media production
Video production
Computer Graphic and digital photography
3D animation and motion Graphics
Last Date for submission of forms: 05-07-2019 for KPK FATA, Baltistan, Azad Jummu Kashmir Guota seats.
Self Support / Self Finance Scheme All Pakistan
Eligibility: intermediate or equipment
Admission criteria: admissions will be on open merit basis. An aptitude test will be followed by an interview.
Applications form can be downloading from www.nca.edu.pk/mediaproductions, also available at the department of multimedia arts of information desk.
Full fee paying/self finance scheme
A number of students are admitted to the College as full fee paying students. At present their number is fixed at 25% of the total places available at the College. Admission tests on the basis of open merit for this scheme are identical to those conducted for other students. An equally high merit in the test is required to qualify for admission as a full-fee paying/self finance student under the full-fee paying/self finance scheme.
The full tuition fee for the length of the course for fine art, design, musicology and film and television is Rs. 325,000 and Rs. 409,500 for Architecture. These fees are non refundable in case a student is disqualified in the first or second year; expelled; or the voluntary discontinuation of the course on part of the student for whatever reason at any stage of his/her studies. In addition to the tuition fee stated above, students will be required to pay other dues and student charges.
Admission procedure
The college grants equal opportunities to women and men who possess exceptional aptitude for the visual arts and who have attained a reputable standard in general education before applying for admission. The College does not discriminate against admission for physically challenged persons.
The College conducts admission tests which are held in all the provinces of Pakistan. Candidates wishing to join the department of fine art and faculty of design are required to obtain high grades in the drawing and aptitude tests. Candidates wishing to apply for the department of architecture are required to pass an examination in mathematics in addition to drawing and aptitude tests. Those wishing to apply for the department of musicology and film and television will be required to take an aptitude test. Only those candidates are eligible to take the admission examinations who have passed the Higher Secondary/Intermediate Examination or its equivalent from any recognized institution, with a minimum of second division (45% Marks). Students with third division are not eligible to apply.