Motor Vehicle Registration Transfer of Ownership online in Punjab
Federal government of Pakistan and government of Punjab excise digitalization announced the online vehicle transfer system first time in Pakistan Punjab. The vehicle online registration and ownership transfer system will be online from 01 January 2022.
The Old Cars, Buses, Motorcycles and other vehicles that are under registration or Under Ownership Transfer must be transfer before date 31 December 2021. The deadline announced the Punjab Excise Government of Punjab today date 26 December 2021 Sunday in Jang Newspaper.
The Vehicles will be transfer through biometric system.
Benefits of Online Registration / Ownership Transfer:
No need to visit offices
No fraud and extra charges
No one change the ownership with our biometric system.
How to apply online:
The online registration starts from date 01 January 2022. The motor owners and New Vehicle registration open through Excise Taxation and Narcotics Control Department Government of Punjab at excise.punjab.gov.pk.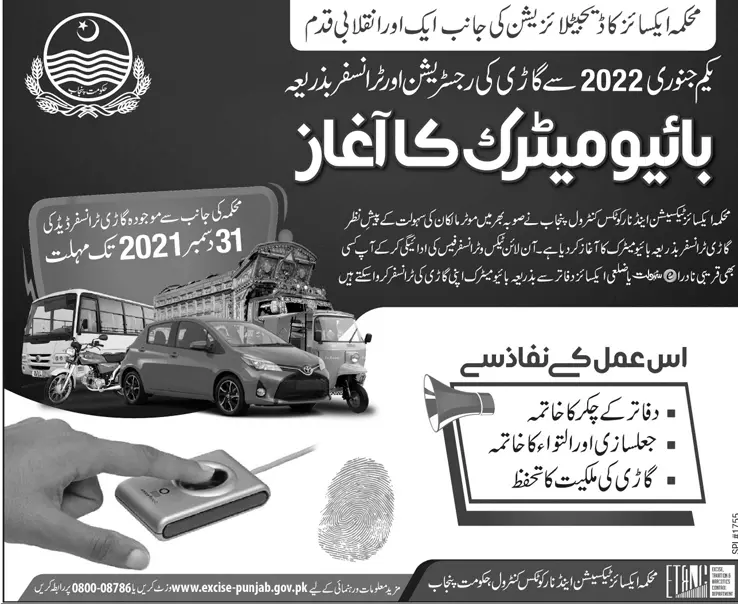 Vehicle Transfer Fee:
Rates of Transfer Fee
Motorcycle / Scooter PKR. 150/-
Heavy Transport Vehicle HTV: PKR. 4000/-
Not exceeding 1000cc: PKR. 1200/-
Exceeding 1000cc but not more than 1800cc: PKR. 2000/-
Exceeding 1800cc: PKR. 3000/-
New Vehicle Registration:
Motorcycle / Scooter:
Up to 70 cc: PKR. 1,000
71 to 100 cc: PKR. 1,500
101 to 125 cc: PKR. 2,000
126 to 150 cc: PKR. 2,500
Above 150 cc: 2% of the values of the vehicles
Tractors, Trucks, Buses, Rickshaws and Taxies 1% of the values of the vehicles
Combined Harvesters, Rigs, Fork Lifters, Road Rollers, Excavators, Sewerage Cleaning Plants etc: PKR. 300/- each
Not exceeding 1000cc: 1%
Exceeding 1000cc but not more than 1500cc: 2%
Exceeding 1500cc but not more than 2000cc: 3%
Exceeding 2000cc: 4%
Type of Taxes:
Rate of New Registration
Luxury Tax
Rates of Transfer
Rates of Token Tax Motor Car
Rates of Other Post Transactions
Rates of Security Featured Items
Rates of Withholding Tax – (One Time at Registration on Local Cars)
Rates of Motor Tax on Commercial Vehicles
Rates of Income Tax
Rebate in Token Tax
vehicle ownership transfer online in Punjab
transfer of vehicle ownership Lahore online
transfer of vehicle ownership Lahore fees
transfer of vehicle ownership Islamabad online
how to transfer car ownership in Karachi
transfer of vehicle ownership Islamabad biometric
transfer of vehicle ownership Islamabad fee
bike ownership transfer online