National Textile University Faisalabad offer Mora scholarships for needy student's session 2021-2022. It is notified for the information of all the students that Mora Scholarships Zakat Fund are being offered by district zakat fund for academic year 2021-2022 for deserving Muslim students. Application forms may be obtained from university shops or administration room.
The interested and needy students need to reach university office in the undersigned latest by 30 October 2021 Friday forms after due date will not be accepted.
Eligibility:
Minimum CGPA 2.00 / 4.00 or 60% marks in intermediate for 1st semester students.
Students must attach valid CNIC of their own and parents along with result of last passed exam.
The forms with expired CNIC will be straight forward rejected.
Students should have exemplary conduct record and must be free from any restriction / ban by the university disciplinary committee for availing scholarship schemes.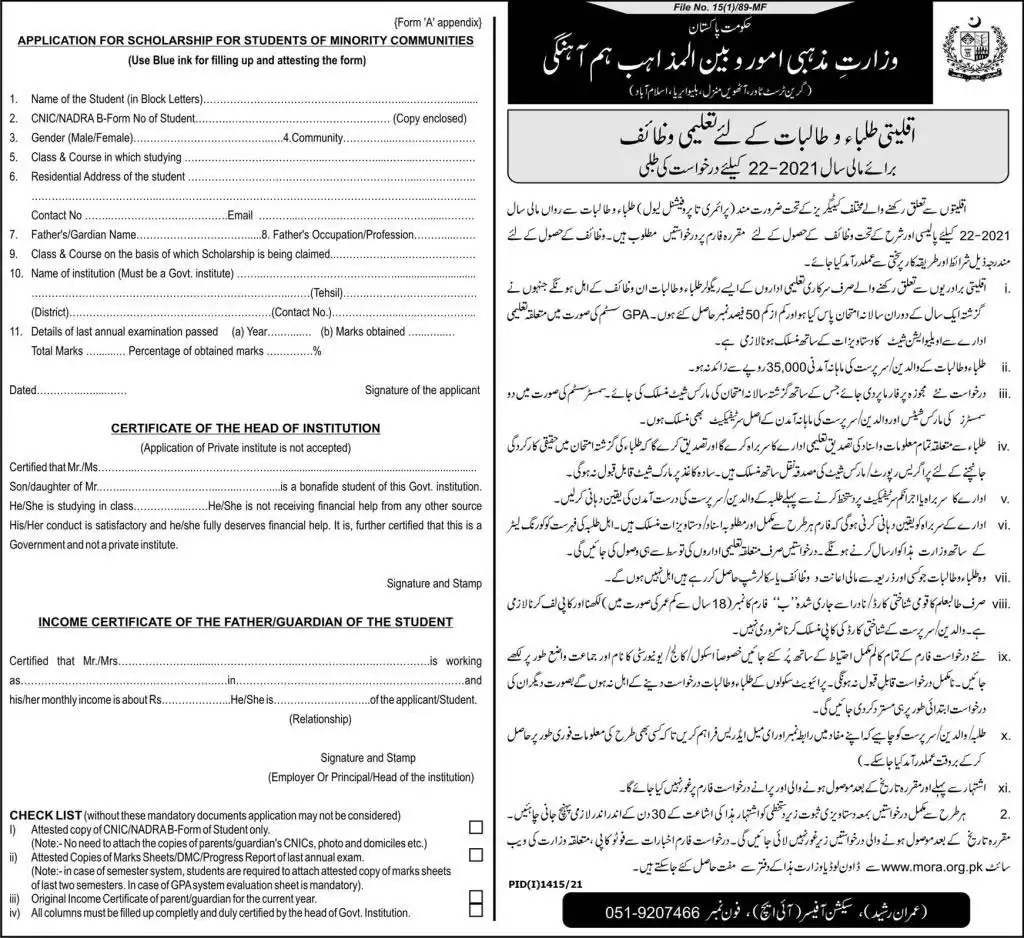 Payment of MORA Scholarship
All the enlisted students who applied for MORA Scholarship of different districts are directed to visit Provost Office, Garden Campus, Abdul Wali Khan University Mardan for their payment.
Last Date to Submit Scholarship Application Form: 04 October 2021
In case of non-coordination their amount will be sent back to the District Zakat Officer concerned.
Previous Merit List:
| | | |
| --- | --- | --- |
| S/NO | NAME OF STUDENT | FATHER  NAME |
| 1 | Asif Ali | Aman Ullah Khan |
| 2 | Nosheen | Farman Ali |
| 3 | Salman Khan | Israj Gul |
| 4 | Kayenat | Abdul Sattar |
| 5 | Abdullah | Yahya Gul |
| 6 | Hussain Zaman | Said uz Zaman |
| 7 | Taimur Hayat | Khizar Hayat |
| 8 | Muhammad Usman Khan | Burhan Ud Din |
| 9 | Sajid Ali | Said Ur Rehman |
| 10 | Muhammad Imran | Saif Ur Rehman |
| 11 | Zeeshan | Mukhtiar Ullah |
| 12 | Ali Jawad | Mukhtiar Ali |
| 13 | Taimur Khan | Bakhtiar Khan |
| 14 | Saifullah Khan | Sher Ghawas |
| 15 | Ahsin Iqbal | Bakht Mashal |
| 16 | S.Akif Hussain | S.Arshad Hussain |
| 17 | Mashood | Zaman Khan |
| 18 | Syed Awais Shah | Said Abdal |
| 19 | M.Waseem | M.Inam |
| 20 | Fakhar Imam | Muhammad Israr |
| 21 | Said Rehman | Sardar Saeed |
| 22 | Anees Khan | Saeed Zaman |
| 23 | Muhammad Haras Khan | Raees Khan |
| 24 | Shahzad Khan | Haji Bahadar |
| 25 | Kalsoom | Abdul Raziq Rahi |
| 26 | Rahat shah | Itbar Shah |
| 27 | Adnan | Ghani Rehman |
| 28 | Salman Shah | Qabil shah |
| 29 | Imad Ahmad | Fazal Mabood |
| 30 | Sohail Ahmad | Mukamil Khan |
| 31 | Darwish Ali | Muhammad Roshan |
| 32 | Abdul Basit | Hazrat Gul |
| 33 | Haseena Haroon | Haroon ur rasheed |
| 34 | Farhan Javed | Javed Khn |
| 35 | Tasawar Khan | Samar taj |
| 36 | Sami Ullah | Wali Muhammad |
| 37 | Waseem Shah | Abdul kareem Shah |
| 38 | Sufaid khan | Amir Zada |
| 39 | Ayesha Raza | Sher Raza Khan |
| 40 | Muhmmad Bilawal | Fazal Ahad |
| 41 | Muhammad Waqas | Jehanzeb |
| 42 | Afia Muhammad | Hazrat Muhammad |
| 43 | Muhammad Shahid | Nihar Ali |
| 44 | Sami Ullah | Khan Sher |
| 45 | Uzma Jamal | Noor Jamal |
| 46 | Ayesha | Fazal Mahmood |
| 47 | Muhammad Noman | Muhammad Naeem |
| 48 | Safia Hadi | Fazal Hadi |
| 49 | Khanam | Muhammad Saleem |
| 50 | Muhammad Abass | Rasool Khan |
| 51 | Muhammad Arsalan | Anwar Muhammad |
| 52 | Sumaria Bibi | Sartaj Khan |
| 53 | Ijaz Khan | Arsalan Khan |
| 54 | Izhar Ahmad | Mir Afzal Khan |
| 55 | Alamgir Khan | Khalis Shah |
| 56 | Shams Ul Qamar | Sher Afzal |
| 57 | Pir Saad | Amjid Ali |
| 58 | Amina Izhar | Izhar ul Bacha |
| 59 | Sajeela Gul | Azam Khan |
| 60 | Farooq Ali | Faqir Shah |
| 61 | Sahawat Shah | Maghfoor Shah |
| 62 | Adnan Satar | Abdul Sattar |
| 63 | Ishaq Jalal | Noor Jalal |
| 64 | Aisha Raza | Shah Raza Khan |
| 65 | Muhammad Farhan | Bakht Shad |
| 66 | Zahoor Ahmad | Yousaf Khan |
| 67 | Irfan Ullah | Abdul Jabbar |
| 68 | Zeeshan Ali | Shuokat Ali |
| 69 | Kashif Haidar | Ali Haidar |
| 70 | Asma Ali | Ali Muhammad |
| 71 | Fakhr I Alam | Faqir Muhammmad |
| 72 | Muhammad Usman | Ayaz Muhammad |
| 73 | Syed Junaid Ahmad | Syed Rashid Ahmad |
| 74 | Gohar Ali | Zafar Iqbal |
List For The Year
| | | |
| --- | --- | --- |
| S. No | Name | Father Name |
| 1 | Zahir Shah | Muhammad Ayaz |
| 2 | Meena gul | Bahadar Khan |
| 3 | Tayab Ullah | Sana Ullah |
| 4 | Dawood Khan | Salim Kham |
| 5 | wajeeha zafar | zaffar ali |
| 6 | Azra Begum | Sultan Muhammad |
| 7 | Wajid Ali | Zeer Ullah Khan |
| 8 | Raina Bibi | Ali Rehman |
| 9 | Alieena Urooj | Muhammad Idrees |
| 10 | Jahir Ali | Afsar Ali |
| 11 | Zeeshan Ahmad | Sartaj Ahmad |
| 12 | Gulalai | Fazal Mabood |
| 13 | Komal Humayun | Hamyun Khan |
| 14 | Muhammad sheraz | Khalid Iqbal |
| 15 | Muhammad Saleem | Khan Nabi |
| 16 | sahib zada Mudassir | S. Noor Haleem |
| 17 | Gohar Zaman | Gohar Ali |
| 18 | Fatma Gul | Gul Muhammad |
| 19 | Shah Faisal | Misal Khan |
| 20 | Muhammad Idrees | Farooq Ali Khan |
| 21 | Shaoib ullah | Muhammad Ilyas |
| 22 | Muhmmad Idrees | Sher Afzal |
| 23 | Fawad Akhtar | Akhtar Taj |
| 24 | Adnan Khan | Farid Gul |
| 25 | Waqar Ahmad | Ahmad Ali Khan |
| 26 | Muhammad Fayaz | Muhammad Ayaz |
| 27 | Aisha Bibi | Muhammad Khwersh |
| 28 | Ambreen | Zaheer Ahmad Sheikh |
| 29 | Qazi Farhan | Qazi Fazal zahir |
| 30 | Sadaf Begum | Pervez Khan |
| 31 | Madeeha Shah | Muhammad Nafees |
| 32 | Saif ullah Khan | Sher Ghawas |
| 33 | Muhammad Musa | Afsar Khan |
Download Scholarship Application Form 2021 Apply Online