Mohammad Ali Jinnah University Karachi Admission Opening in morning and evening shifts. University offer BBA, BS,MBA, and ms courses. The admission schedule and other details are given below on this advertisement dated. University also provides scholarships to right candidates under Need-Cup Merit Basis.
Admission Announcement Sunday
Pre – Admission Seminar at 06:00 pm
(Evening & Weekend)
Last Date to Receive Application Forms
Online Admission Tests (All Programs) Sunda
Test Result Tuesday
Interviews Thursday & Friday
Merit List Announcement Monday
Last Date to Deposit Fee Wednesday
Commencement of Classes (Morning & Evening) Monday
Commencement of Classes (Weekend) Saturday
Admissions Procedure
Obtain information from the Admissions Office or website.
Get a prospectus from the Admissions Office.
All applications must be filled out and deposited at the Admissions Office within the deadlines for each semester (check the dates and deadlines for each session from the Admissions Office or website).
All applications must have attested copies of relevant documents attached, especially degrees and/or certificates of higher education completed before applying to any program at MAJU.
Obtain a date for the written test and interview.
Final lists of successful candidates will be displayed on a specified date and intimations will be sent to the student's mailing address.
After receipt of the admission letter, deposit the admission fee and fee for the first semester.
A roll number will be issued to each student and a Student ID card will be made.
Students are required to come to the Orientation Seminar on the given date.
Classes will commence as per schedule.
How to Apply Online:
Form Instructions
Applicants are required to pay Rs. 1000/= as testing fee at the time of submission of the completed admission form.
No photocopies of certificates are required at the time of submission of this form.
Applicant must bring original and photocopies of certificates, degree, marks sheets and CNIC at the time of interview.
No interview will be conducted without original and photocopies of their documents.
Three passport size photographs are required. One photo should be pasted on the form.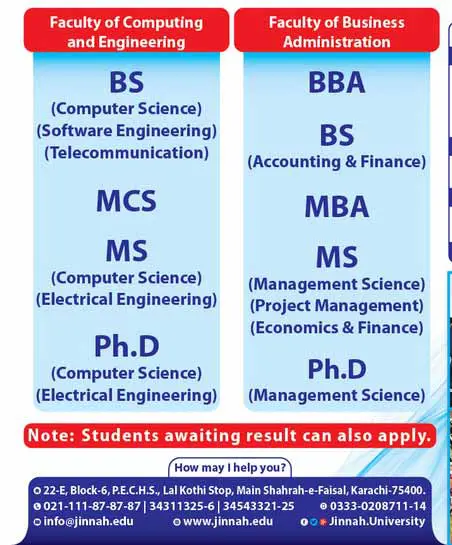 Bachelor Programs:
BBA
BS (Accounting, Finance, Bio Sciences, computer Science, Software Engineering)
BE (Electrical Engineering, and Computer System Engineering)
Graduate Programs:
MBA
MS (Management Sciences, Economics, Finance, Computer Science and Electrical Engineering)
Doctoral Programs:
PhD (management sciences, Computer Sciences and Electrical Engineering)
Career Transition Programs:
MBA Professional
MCS
MS Project Management.
Graduate with World Class Career Oriented Degree Programs at Mohammad Ali Jinnah University.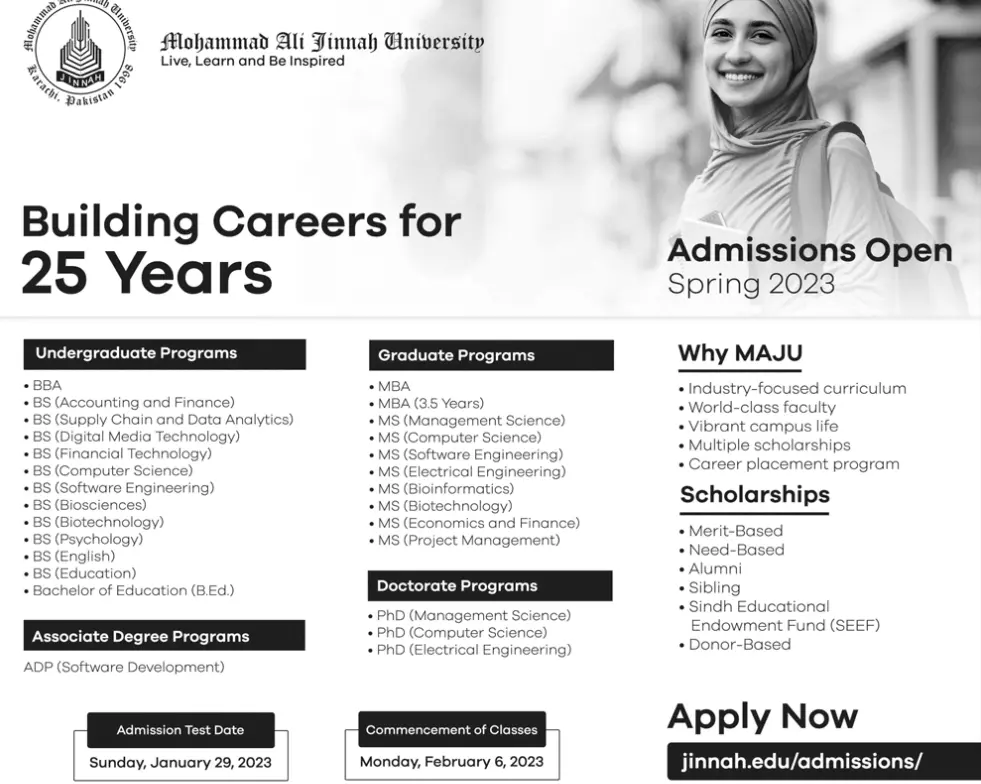 Admissions Schedule – Spring 2023
Online Admission Forms Availability Friday, January 27, 2023
Online Admission Form Submission Deadline Friday, January 27, 2023
Application Processing Fee Payment Deadline Friday, January 27, 2023
Mohammad Ali Jinnah University Admission Test (MAT) Sunday, January 29, 2023
Orientation Session Saturday, February 04, 2023
Commencement of Classes Monday, February 06, 2023
Apply on https://admissions.maju.edu.pk
Call: 0348-111-6258 / 021-111-87-87-87
Email: [email protected]
FEE STRUCTURE – SPRING 2023
Application Processing Fee (APF)
(Non-Refundable, Non-Transferable) PKR 1,500/-
Admission Fee
(Non-Refundable, Non-Transferable) PKR 15,000/-
Program Fee/Credit Hour (PKR)
Undergraduate Programs
BS (English) 4,500
BS (Education) 4,500
B.Ed. 4,500
Associate Degree Program 6,000
BS (Digital Media Science) 6,000
BBA 6,000
BS (Supply Chain and Data Analytics) 6,000
BS (Accounting and Finance) 6,000
BS (Psychology) 6,000
BS (Biosciences) 6,000
BS (Biotechnology) 6,000
BS (Computer Science) 6,000
BS (Software Engineering) 6,000
B.E (Computer Systems Engineering) 6,000
B.E (Software Engineering) 6,000
B.E (Electrical Engineering) 6,000
Graduate Programs
MBA 6,000
MS (Management Sciences) 6,000
MS (Project Management) 6,000
MS (Economics and Finance) 6,000
MS (Computer Science) 6,000
MS (Software Engineering) 6,000
MS (Electrical Engineering) 6,000
MS (Bioinformatics) 6,000
MS (Biotechnology) 6,000
Doctorate Programs
PhD (Management Science) 9,000
PhD (Computer Science) 9,000
PhD (Electrical Engineering) 9,000
Apply Online for Admissions Session 2023: Apply Here