Margalla Institute of Health Sciences Admissions 2017 in BDS, Pharm.D and DPT
It is to notify that MIHS/Dental Hospital will remain close on 10th November except those departments where university or sendup exams are in progress. Furthermore the departments such as Student Affairs and Logistics which are involved in examination procedures will remain open.
MIHS is state of the art College imparting education in BDS, DPT and Pharm-D programs. Our students are achievers of academic excellence among all faculty annual examinations especially BDS. Margalla Institute Admissions for year 2017-2018 Download Admission forms for BDS, Pharm D and DPT:
[button link="http://www.margalla.edu.pk/wp-content/uploads/2015/08/Prospectus-2015-16-Form.pdf" size="large" color="green"]Admission form[/button]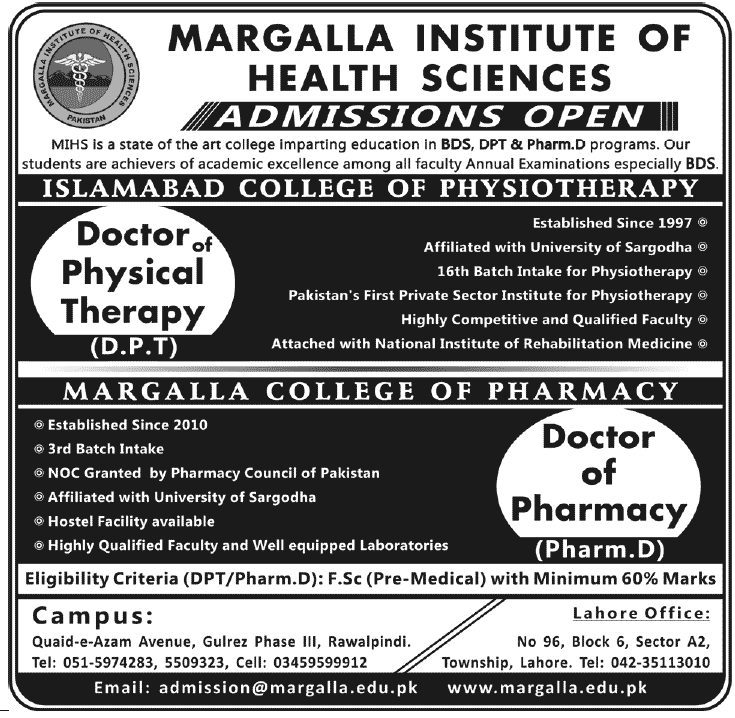 Islamabad College of physiotherapy starts admissions in Doctor of Physical Therapy DPT.
Margalla College of pharmacy admissions in Doctor of pharmacy Pharm D.
Eligibility:
DPT and Pharm D Fsc pre medical with minimum 60 percentage marks.