Manjanbazam Cadet Colleges have campuses in Ghazi, Tarbela and Barotha / Attock registration open for session 2021-2022, limited seats available for 6th 7th and 8th class. Manjanbazam Cadet College innovate education methods focusing all areas of personality grooming, modern classrooms, dedicated laboratories, adventure training and co-curricular, state of the art sports facilities and physical fitness regime. Manjanbazam Cadet College is a project of SSG, Pak Army, GHQ Approved. Man jaanbazam cadet college starts registration for session 2021-2022 for class 6th 7th 8th and 9th class.
Manjanbazam Cadet College is a Project of SSG and Approved from GHQ Pakistan Army, a new concept in personality building of next generation focusing on education, character building, Intellectual growth and physical fitness for future of Pakistan Army.
Manjanbazam Cadet College will be finalize the students for 6th 7th and 8th class on merit base, the interested candidates may download admission application forms from www.mjccs.pk and fill the admission form and send it to along with draft of bank Rs. 500/- and prescribed documents in favour of MJCCS on official address of Manjanbazam Cadet College.
Eligibility criteria for 6th 7th and 8th Class:
The students who want to apply in 6th class must be 5th class degree same like 7th and 8th class student must be pass in their 6th and 7th class for registration.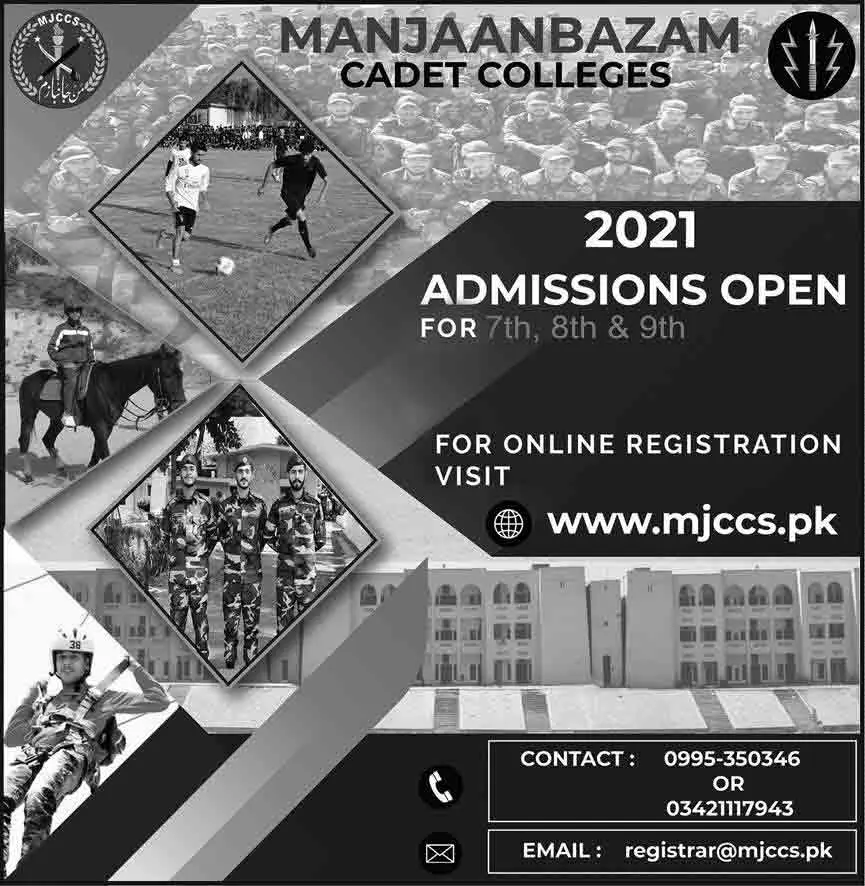 Eligibility criteria for 1st Year:
All the candidates who have cleared Matric or O Level Exam, or have appeared this year are eligible to apply. Students who are waiting their results for Matric or O level must be provide Hope certificate that the student will be pass with the marks of 60% in their Matric Annual or Supplementary Exams.
Last date of registration: Apply for Online
Students need to submit following documents with Admission form:
4 passport size photographs of the candidate.
2. Copy of father CNIC
3. Copy of candidates Form B / CNIC
4. Copy of last Internal Result
5. Copy of Result card of 6th 7th 8th or 10th class or 9th class (in case the result of 10th class is not declared)
6. Bank draft DD of Rs. 500/- with the name of MJCCS
Contact to Manjanbazam Cadet College during all days from 09 AM to 03 PM Expect Sunday. Therefore i recommend students to apply as early as possible.
Phone Numbers: 0995-660816 / 0342-1117412 Mobile Number
Read Also:
Cadet College Petaro Admission 2021 in 7th 8th O Level