Khushali Microfinance bank of Pakistan offering career opportunities for the position of loan officer, General Loan officer requires from all over the Pakistan in all bank branches of Khushhali microfinance bank.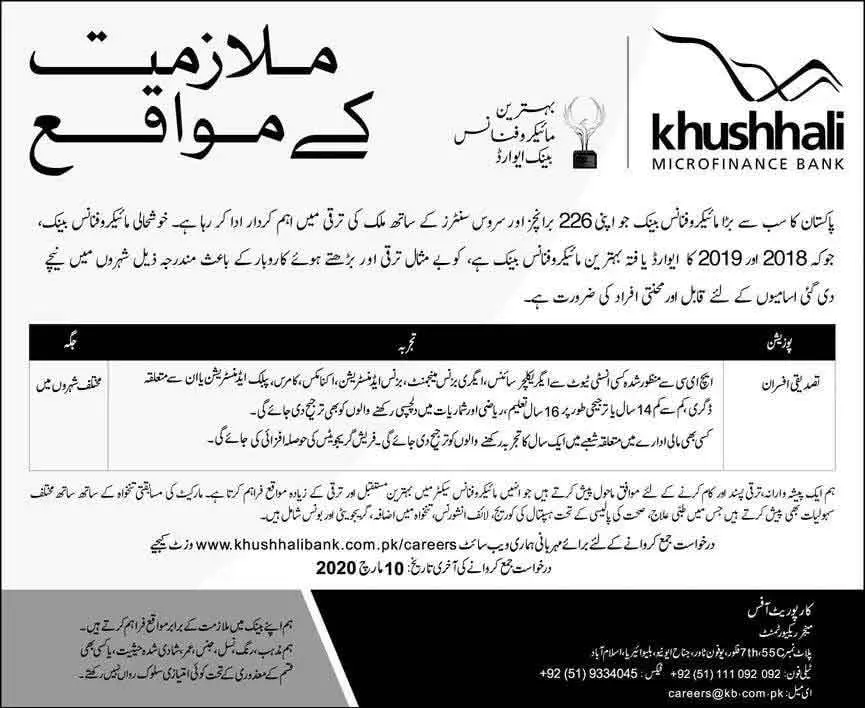 The selected candidate will be responsible for product marketing, loan booking, client service and document processing.
The online application is open now from date 01 March 2020; the rozee.pk is responsible to handle Job applications of khushhali microfinance bank of Pakistan for Loan officer Position.
Eligibility Criteria:
The fresh graduate entry level candidates, the preference will be given to master degree holders or Bachelor Hons 14 year's degree holder candidates from HEC recognized university / institute / overseas university in the field.
Commerce (B.com, M.Com)
Banking and Finance (BS, MS, MBA)
Business administration (BS, MBA, BBA)
 Agricultural and Economics (MA, MSC, BS, MBA, BBA)
Total Positions: 35 plus (More) in All cities of Pakistan
Last Date for online application from: 10 March 2020
Job Location: All Cities of Pakistan
Online Application Form:
Knowledge, Skills, Abilities & Other attributes:
As loan officer Job is a field Job so applicant must have their own motorbike with driving license.
The age of applicant must not be more than 30 years old
The applicant must be knowledge about Microsoft office (MS Excel, MS World).
Ensure prompt delivery, repayment of loans, provide periodic portfolio information & maintain portfolio quality. Market & sell KMBL general loan products (group and individual loans) – maximum loan value up to Rs. 150,000. Conduct loan booking in strict compliance with KMBL's policies, procedures and ethical standards; facilitate in implementing internal control standards in letter and spirit.