Karachi School of Art affiliated from Sindh board of technical education offering diploma programs and certification in Fine Art FA, communication Design | CD, Textile Design | TD, Digital Media | DM.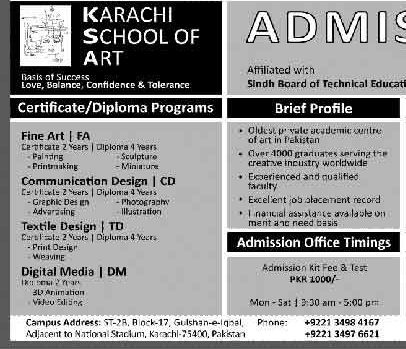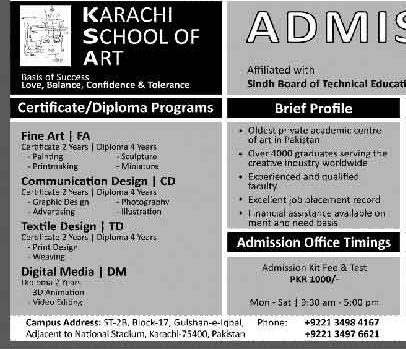 Admission Schedule:
Karachi school of art last date to apply:
Admission Test will be held on dated
The class of Karachi School will be start from
Eligibility for admissions
Minimum 45 percentage marks, result awaiting students can also apply.
Admission fee and test will be taken by Karachi School of Art Rs. 1000/-
Admission office timing: Monday to Saturday 9:30 Am to 5:00 PM.
Mobile Numbers: +922134984167, 092221-34976621
Email Address: info@ksa.edu.pk
Website: www.ksa.edu.pk
Campus Address: ST-2B, Block-17, Gulshan e Iqbal, Adjacent to National Stadium, Karachi 75400, Pakistan.
COURSES DIPLOMA PROGRAMS
– 4 Years Diploma in FINE ARTS
– 4 Years Diploma in COMMUNICATION DESIGN
– 4 Years Diploma in TEXTILE DESIGN
– 2 Years Diploma in DIGITAL MEDIA
SHORT DIPLOMAS / COURSES
– 1 Year Diploma in FASHION DESIGN
– 6 Months Diploma in PHOTOGRAPHY
– 6 Months Diploma in DRAWING & PAINTING
– 6 Months Diploma in INTERIOR DESIGN
– 3 Months Certificate in SHORT FILM / DOCUMENTARY
– 3 Months Certificate in GRAPHIC DESIGN
– 3 Months Certificate in ANIMATION