National ICT R&D Fund, Govt of Pakistan Jobs May 2019
National ICT R&D Fund, a company registered under Section 42 of the Companies Ordinance, incorporated by the Federal Government, has the objective to transform Pakistan's economy into a knowledge based economy by promoting information and communication technology initiatives through synergic industry and academia collaboration.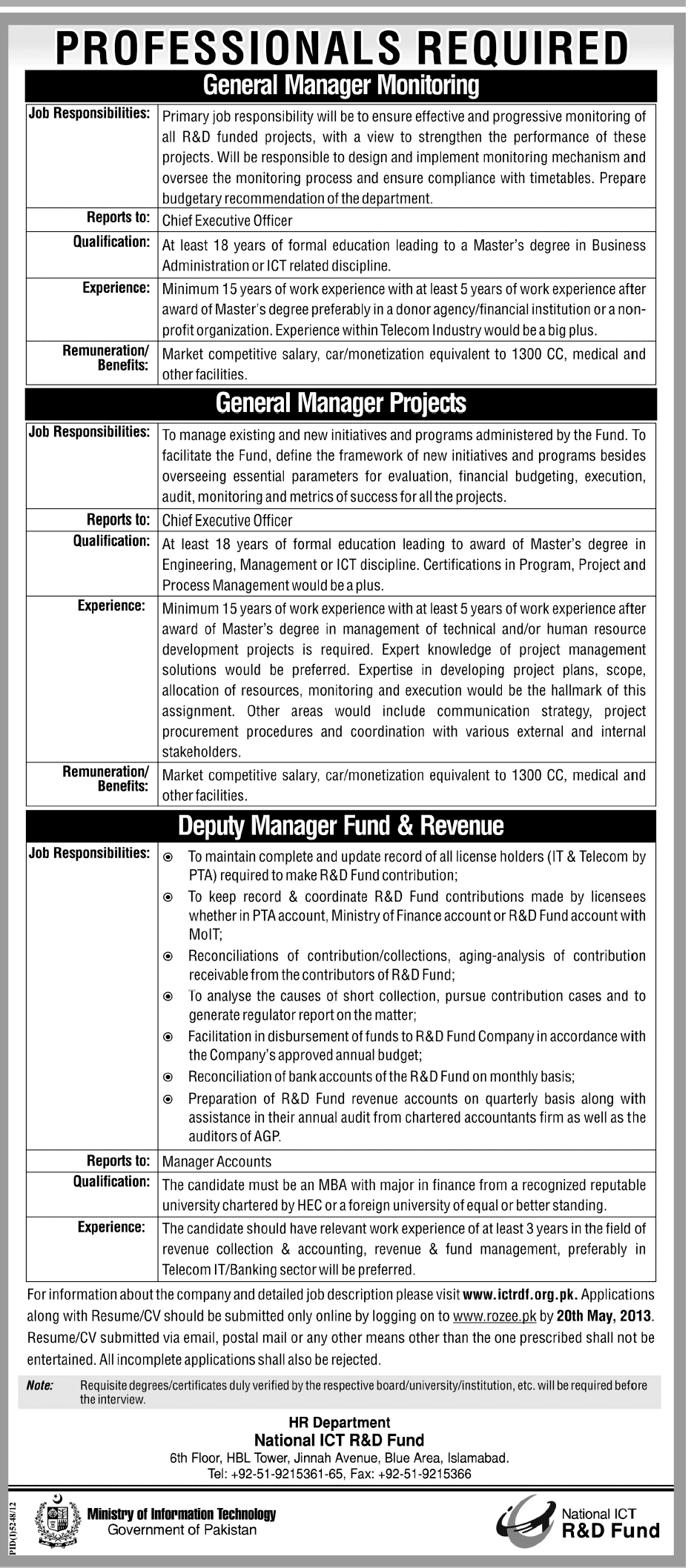 We have a team of competent and highly motivated individuals who share our objectives. We provide a work environment that is supportive and challenges individuals to achieve excellence. We offer market competitive salaries.
Job Title: 

Deputy Manager Fund & Revenue

Job Responsibilities: 

To maintain complete and update record of all license holders (IT &  Telecom by PTA) required to make R&D Fund contribution;

To keep record & coordinate R&D Fund contributions made by licensees whether in PTA account, Ministry of Finance account or R&D Fund account with MoIT;
Reconciliations of contribution/collections, aging-analysis of contribution receivable from the contributors of R&D Fund;
To analyse the causes of short collection, pursue contribution cases and to generate regulator report on the matter;
Facilitation in disbursement of funds to R&D Fund Company in accordance with the Company's approved annual budget;
Reconciliation of bank accounts of the R&D Fund on monthly basis;
Preparation of R&D Fund revenue accounts on quarterly basis along with assistance in their annual audit from chartered accountants firm as well as the auditors of AGP.

Qualification & Experience: 

At least Master's degree in Business Administration with major in   finance.Minimum 3 years of work experience in the field of revenue collection & accounting, revenue & fund management preferably in Telecom/ IT /Banking sector

Remuneration/ Benefits: 

Market competitive salary with medical and other facilities.

Reports to:

Manager Accounts

 

Last date of applications is May 20, 2019. Till 17:00 Hrs and application will only be received via rozee.pk

Note:     Requisite degrees/certificates duly verified by the respective board/university/institution, etc. will be required before the interview

Job Title: 

General Manager-Projects

Job Responsibilities: 

To manage existing and new initiatives and programs administered by the Fund. To facilitate the Fund define the framework of new initiatives and programs besides overseeing essential parameters for evaluation, financial budgeting, execution, audit, monitoring and metrics of success for all the projects.

Qualification & Experience: 

At least 18 years of formal education leading to a award of Master's degree in Engineering, Management or ICT discipline. Certifications in Program, Project and Process management would be a plus.Minimum 15 years of work experience with at least 5 years of work experience after award of Master's degree in management of technical and/or human resource development projects is required. Expert knowledge of project management solutions would be preferred. Expertise in developing project plans, scope, allocation of resources, monitoring and execution would be the hallmark of this assignment. Other areas would include communication strategy, project procurement procedures and coordination with various external and internal stakeholders.

Remuneration/ Benefits: 

Market competitive salary, car/monetization equivalent to 1300 CC, medical and other facilities.

Reports to:

Chief Executive Officer

 

Last date of applications is May 20, 2019. Till 17:00 Hrs and application will only be received via rozee.pk

Note:     Requisite degrees/certificates duly verified by the respective board/university/institution, etc. will be required before the interview

Job Title: 

General Manager Monitoring

Job Responsibilities: 

Primary job responsibility will be to ensure effective and progressive monitoring of all R&D Funded projects, with a view to strengthen the performance of these projects.

Design and implement Monitoring mechanism
– Design and implement monitoring and evaluation tools and strategies in line with the ongoing proposal approval criteria.
– Analyze and recommend methods to match current interests of National R & D Fund with Industry priorities.
Oversee the monitoring process and ensure compliance with timetables
– Maintain tracking system for prospect clearance and project monitoring; coordinate, follow-up on successful proposals ensuring timely submission of narrative and financial reports and adherence to project timetables. Take appropriate actions in case of irregularities.
– Give recommendations on monitoring team composition for individual project, depending on the scale and criticality of the project.
– Facilitate the monitoring team in designing monitoring schedules for R&D projects, to track project progress against planned tasks.
Prepare budgetary recommendation of the department
– Determine fiscal requirements of the office and prepare budgetary recommendations; ensure expenditures are monitored, verified and reconciled

Qualification & Experience: 

At least 18 years of formal education leading to a Master's degree in Business   Administration or ICT related discipline.Minimum 15 years of work experience with at least 5 years of work experience after award of Master's degree preferably in a donor agency/financial institution or a non-profit organization. Experience within Telecom Industry would be a big plus.

Remuneration/ Benefits:   

Market competitive salary, car/monetization equivalent to 1300 CC, medical and other facilities.

 

Last date of applications is May 20, 2019. Till 17:00 Hrs and application will only be received via rozee.pk

Note:     Requisite degrees/certificates duly verified by the respective board/university/institution, etc. will be required before the interview