Jinnah University for Women Rawalpindi announced first merit list today the last date to submit admission fees is 08 September 2022. All selected students must be submit admission fees before date 08-09-2022 morning 09:00 AM. the second merit list will be display on date 09 September 2021 and the regular classes will be start from Date 14 September 2022.
Diploma (1 YEAR)
MERIT LIST OF Diploma in Early Childhood Education
LAW (5 YEARS)
MERIT LIST OF LAW (LLB)
Bachelors Programs
MERIT LIST OF Anthropology
MERIT LIST OF Behavioral Sciences
MERIT LIST OF Biotechnology
MERIT LIST OF BUSINESS ADMINISTRATION
MERIT LIST OF Computer Arts
MERIT LIST OF Commerce (B.COM.)
MERIT LIST OF COMMUNICATION AND MEDIA STUDIES
MERIT LIST OF COMPUTER SCIENCE
MERIT LIST OF Defense and Diplomatic Studies
MERIT LIST OF Economics
MERIT LIST OF Education
MERIT LIST OF English
MERIT LIST OF Environmental Sciences
MERIT LIST OF Electronic Engineering
MERIT LIST OF Fine Arts (Fine Arts)
MERIT LIST OF Fine Arts (Design)
MERIT LIST OF Gender Studies
MERIT LIST OF ISLAMIC STUDIES
MERIT LIST OF MATHEMATICS
MERIT LIST OF PHYSICS
MERIT LIST OF Public Administration
MERIT LIST OF Software Engineering
MERIT LIST OF SOCIOLOGY
MERIT LIST OF URDU
Jinnah University for women announces admissions for academic session 2022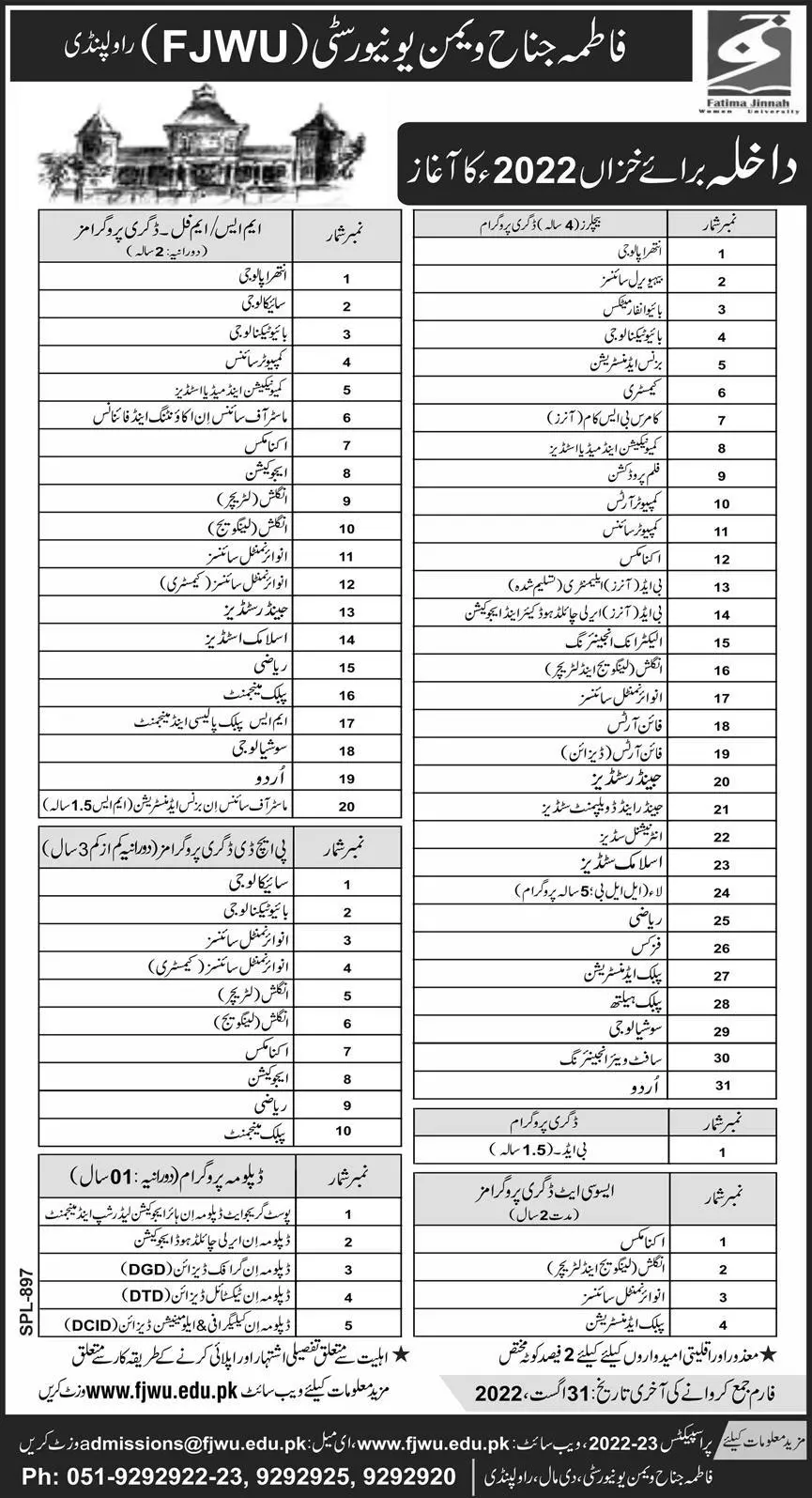 Admission forms are available for Fall 2022
Last date for submission of forms is 31 August 2022
Admissions for specified disciplines will be announced in the first week of September 2022
Admission Schedule for Microbiology / Biotechnology / Food Science & Technology / Zoology / Botany / Biochemistry / Chemistry / Pharmacy / Computer Science & Information Technology / Maths session 2022
Issuance of form
Last date for form submission
Aptitude Test (Timings) –
Interviews (Timings) –
List of finally selected candidates
Last date for fee submission
below old information update information are above for information
Faculty for pharmacy
Pharm D
5 years degree program (morning and evening afternoon classes) accredited by pharmacy council.
Faculty of business admin, commerce, economics,
BBA 4 years degree programme (morning and afternoon classes). MBA 1 year degree programme after BBA.
2.5 Years degree programme after masters (economics, commerce, maths, stats,
3 years degree programme after BBA 3 years, BSC, B.COM, BA, with maths and economics (morning and afternoon classes).
Specialization in marketing, finance, hrm, banking,
University offers on the lowest fee structure, scholarships available on need merit basis. centralized network in all departments and computer labs are connected through centralized wired/ wireless network 10 mbps.
Applications forms will be available from
for future information please contact admission office between 9am to 5pm.
campus st-1, 5-c Nazimabad, karachi. 74600.
Phone number: 042-36620857-59, 36619902, fax Number: 36620614,
Email Address: [email protected]
website of the university: www.jwu.edu.pk
Jinnah University for women announces admissions for academic session 2022