Today voice chancellor Doctor Kanwal amin said that Home economics university Lahore became best university of Pakistan. Kanwal Amin recently become VC of Home Economics University Lahore. She Joins University in the month of May 2019. The Punjab higher education department appointed VC of University, Kanwal Amin is a mother and well educated female professor.
Home Economics University Lahore
Kanwal Amin today speaking with Express newspaper, she said the work on quality of the research has been started and soon results will show that Home Economics University Lahore is in a list of best universities in Pakistan.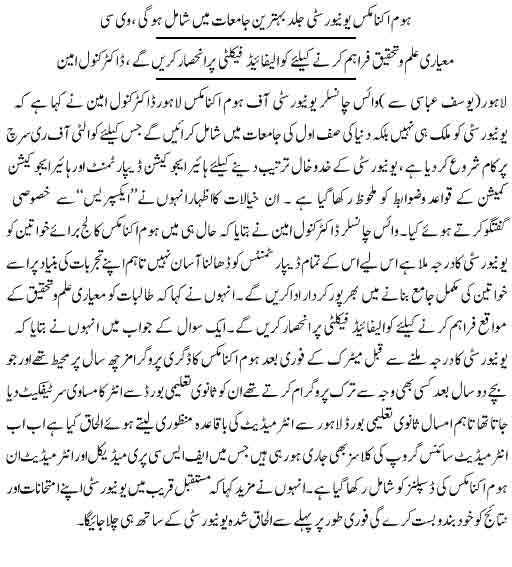 Top Best Colleges in Lahore for Admission in Inter Fsc, Ics, FA, ICom
Recently home economics College is become University, and its newly developed university so it's not easy, but our faculty members are working hard to provide best education with practical experience. University is also offering new courses form intermediate level to master level, the year session 2019, university also offering intermediate FSC in Pre Medical and Pre Engineering before these program classes will not attended.
to get admission in Fazaia College of Education for Women Lahore Admission 2019 Last Date
She said in coming years we will produce talented students that will service different departments and organization of Pakistan as well as overseas employment. More she said that in coming Days University will organize their own entry test system and examination system. This system will be introduce later currently university will be working same affiliated university.