Iftikhar Muhammad chaudry is a chief justice of Pakistan. He is a great lawyer as well leader. Justice iftikhar is a rajput by descent. His father was a police officer. His father made residency in a famous city of jalander of east Punjab. His rujputi dignity mixed with sweet Punjabi of jalander. They migrated from jalander after the establishment of Pakistan. They made residing in Quetta the city of Pakistan. His second son name is iftikhar but parents did not know that one day this child will make glory not only them but also for their country, and not only changed high judicial but also the history of Pakistan.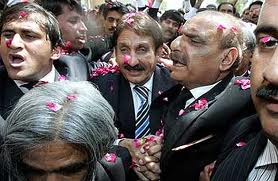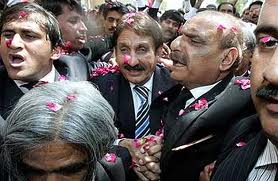 He passed L.L.B from Singh University after doing his B.A and starts his practice.
Who know that one day whole world called his name with respectfully, National law of America called him lawyer of the year 2007. Lawyer party of new York city honor offered their membership and hovered law school gave him medal of freedom and said that famous principle man and write Iftikhar with courage strong faith and independence judicial because a role model to people of Pakistan and also the whole world. Northeastern university of America gave him honored degree of doctor with these worlds.
" iftikhar chaudhry you gave zeal to lawyers and Public of whole world."