Addressing a press conference here on Friday, Chairperson Higher Education Commission, Dr. Javaid R. Laghari, here Friday said the primary purpose of the ranking exercise was to drive the higher education institutions Higher Education Institutions (HEIs) towards improved quality, research and promote a culture among HEIs of Pakistan for participation in the world rankings.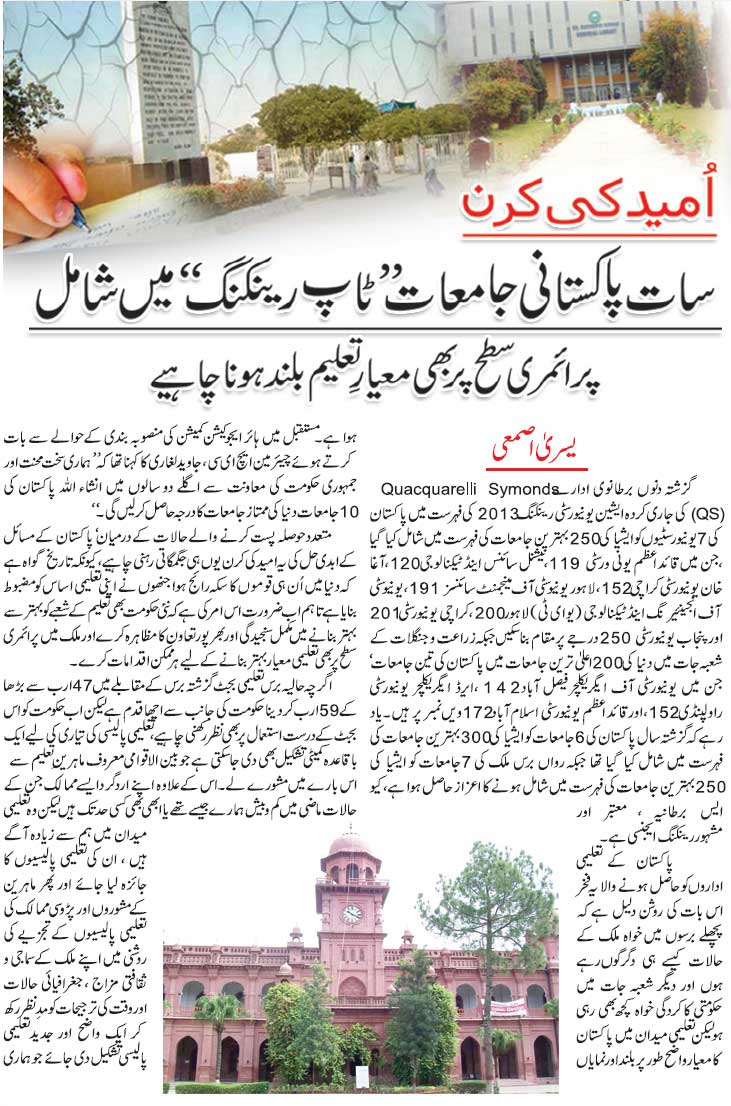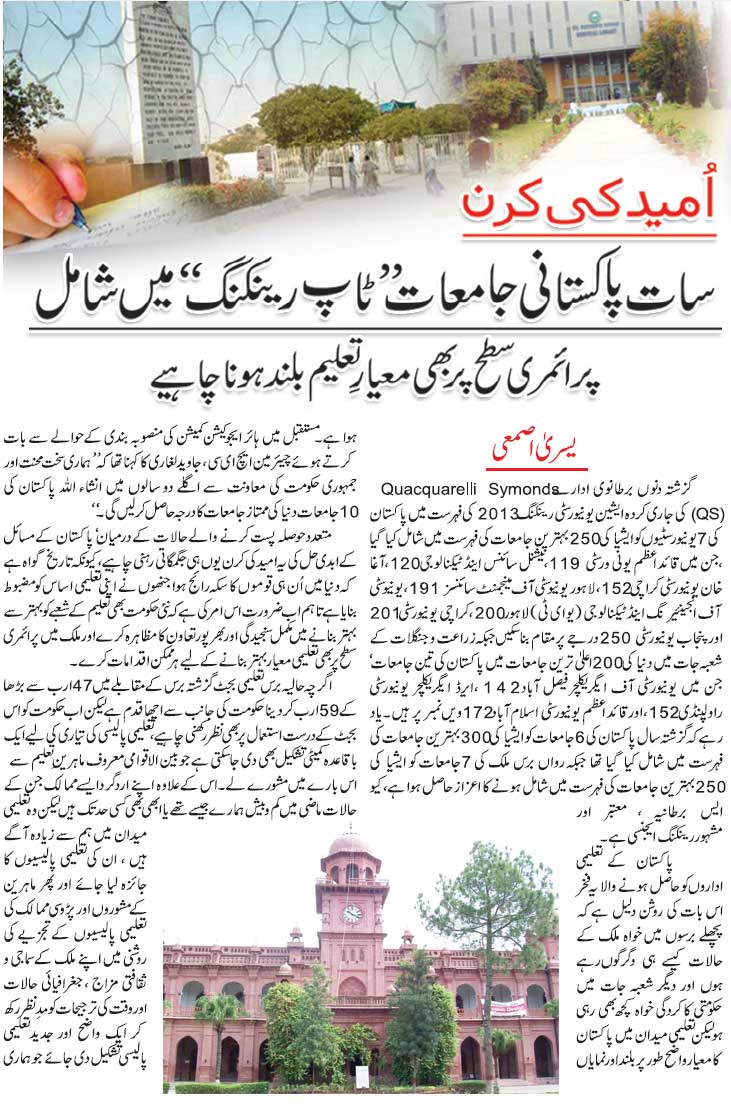 Speaking on the occasion, Dr. Laghari said to strengthen the quality of higher education in Pakistan, HEC has taken various initiatives to bring the HEIs of Pakistan at par with international standards.
Ranking is one of the measures to scale the success of efforts of the HEIs to achieve the international competitiveness in education, research and innovation.
"It will also provide a transparent mechanism to universities on how they compare against their peers, and will inculcate a spirit of competition to raise the standard of education.
The recent inclusion of 10 Pakistani universities among top world and Asian universities is the result of regular ranking efforts by HEC.
This activity also promoted a culture of participation in the world university rankings which led to significant reflection of Pakistan's higher education development at the international level," he remarked.
Prof. Dr. Mukhtar Ahmed Executive Director HEC and the vice chancellors of top ranker universities were also present on the occasion.
Ranking criteria for the universities revolve around three main parameters including implementation status of quality assurance criteria, teaching quality and research.
The HEIs established after December 2008 and the distance education like Allama Iqbal Open University and Virtual University were excluded from the ranking lists.
The ranking 2016 was based on the year 2011-12 data provided by HEIs.
Keeping in view the national context and problems faced by the universities in Pakistan, the primarily identified QS world ranking criteria was amended as per feedback received from the higher education institutions.
In spite of the difficulties associated with ranking, HEC is the first one in the Islamic world that has done rankings twice, first time in 2006 and second time in 2011, however the criteria over the period amended to respond to feedback by HEIs and to make HEC's ranking more compatible with global rankings.
Director General Quality Assurance HEC, Zia Batool informed that the universities had been ranked specifically by category/area of specialization to make it logical.
The sector-wise sorting had not been done to provide equal reflection to both the public and private sector institutions.
Universities could only be comparable within the assigned category.
In Agriculture/Veterinary category top five universities announced by HEC included, University of Agriculture Faisalabad, Pir Mehr Ali Shah Arid Agriculture University Rawalpindi, University of Veterinary and Animal Sciences Lahore, The university of Agriculture Peshawar and Sindh Agriculture University Tandojam and Lasbela University of Agriculture, water and Marine Sciences.
In Engineering and Technology category, Pakistan Institute of Engineering and Applied Science, Islamabad, University of Engineering and Technology Lahore, Ghulam Ishaq Khan Institute of Engineering and Technology Swabi, Mehran University of Engineering and Technology Jamshoro and Institute of Space Technology, Islamabad.
In Business Education category, Lahore University of Management Sciences Lahore, Institute of Business Administration Karachi, Institute of Business Administration Sukkar, Shaheed Zulifikar Ali Bhutto Institute of Science and Technology (SZABIST) Karachi and Institute of Management Sciences Peshawar as the top universities.
In Medical category, Aga Khan University Karachi, University of Health Sciences Lahore, Dow University of Health Sciences Karachi, Liaquat University of Medical and Health Sciences Jamshoro, Khyber Medical University Peshawar, King Edward Medical University Lahore were declared top universities by the HEC.
In General Universities (Large), National University of Sciences and Technology Islamabad, University of the Punjab Lahore, University of Karachi, Karachi, COMSATS Institute of Information Technology Islamabad, Government College University Faisalabad, University of Peshawar, Peshawar, Shah Abdul Latif University Khairpur, the Islamia University of Bahawalpur.
General Universities (Medium) includes Quaid-i-Azam University Islamabad, Government College University Lahore, National University of Computer and Emerging Sciences Islamabad, Fatima Jinnah Women University Rawalpindi, Gomal University D.I Khan and University of Azad Jammu and Kashmir Muzaffarabad.
General Universities (Small) included the University of Faisalabad, Faisalabad, Beaconhouse National University Lahore, Pakistan Institute of Development Economics (PIDE) Islamabad, University of Science and Technology Bannu, Isra University Hyderabad and Foundation University Islamabad. (APP)
Following is a list of universities according to their ranking in the various categories as released by HEC:
Agriculture
University of Agriculture – Faisalabad
Pir Mehr Ali Shah Arid Agriculture University – Rawalpindi
University of Veterinary & Animal Sciences – Lahore
The University of Agriculture – Peshawar
Sindh Agriculture University – Tandojam
Business Education
LUMS, Lahore
IBA, Karachi
Sukkur Institute of Business Administration, Sukkur
SZABIST, Karachi
Institute of Management Science – Peshawar
Engineering and Technology
Pakistan Institute of Engineering & Applied Sciences (PIEAS), Islamabad
UET, Lahore
GIKI, Topi
Mehran University of Engineering & Technology, Jamshoro
Institute of Space Technology, Islamabad
Medical
Aga Khan University, Karachi
University of Health Sciences, Lahore
DOW University of Health Scienes, Karachi
Liaquat University of Medical and Health Sciences, Jamshoro
Khyber Medical University, Peshawar
General Universities (Large)
NUST, Islamabad
University of Punjab, Lahore
University of Karachi, Karachi
COMSATS Institute of Information Technology, Islamabad
Government College University, Faisalabad
General Universities (Medium)
QAU, Islamabad
Government College University, Lahore
FAST-NUCES, Islamabad
Fatima Jinnah Women University, Rawalpindi
Gomal University, D I Khan
General Universities (Small)
The University of Faisalabad, Faisalabad
Beaconhouse National University, Lahore
Pakistan Institute of Development Economics, Islamabad
University of Science & Technology, Bannu
Isra University, Hyderabad