Hailey College of Commerce banking and finance starts Entry test for Admissions session 2022-2023 for BBA (Hons) 4 years morning Programs, MBA 2 years morning and Evening program, banking and finance, insurance and risk management and Mcom 3.5 years program Morning and Self Supporting.
Hailey

college of Commerce Pre Admission Entry Test MBA / BBA 2022-2023:
the pre admission entry test form for the admission for the academic year 2022-2023 will be available at Hailey college of commerce university of the Punjab New Campus, Lahore from following Dates:
Admission form available from date: 
The last Date for submission of entry test form along with the test fee of Rs. 300/- copy of CNIC and two recent photographs: 04-10-2022
MBA Entry Test Date: 09-10-2022
MBA Last Date to submit online Admission Applications: 04 October 2022
BBA Entry Test Date: 
Display of Entry Test Result:
Mcom 3.5 Years Program:
the admission to m.com 3.5 years program for academic year 2022-2023 will be commence from Monday 23 November 2022. entry test forms available at hailey college of commerce from the 23-11-2022. the last date for submission of entry test from along with original deposit slip of Rs. 300/- entry test fee and copy of CNIC to the college is Thursday 2 December 2022. admission office will remain open.
Mcom Entry Test Schedule:
First Merit List Date:
Last for Deposit of Dues: .
Second Merit List:  2022
Last date for deposit of dues:  2022.
Third Merit List:  2022.
Last Date for Deposit of Dues:  2022.
Fourth Merit List:  2022.
Fifth and Final Merit List: 2022.
Last date for deposit of dues:  2022.
The entry test will be held on date  2022, test venue Hailey college of commerce and the M.com Test Result will be announced on date 2022.
Appearance in entry test is mandatory for admission. the admission notice for m.com 3.5 years program will be advertised through public notice after the announcement of entry test result.
Read Also: Hailey College of Commerce 1st Merit List 2022 Selected Candidates
Entry test forms for admissions in above program available at college from dated 19-09-2022 to onward from time 8:30 am to 4:30 pm. Submit entry test forms before dated 20 January 2022 till 4:30 pm, because its last date to submit entry test forms.
Entry test will be taken by the University of the Punjab Hailey College of Commerce, entry test will be held at Punjab University Examination center, Wahadat Road, Lahore for BBA and MBA entry test can call us on: 042-99213791, 99213792, and 99213793.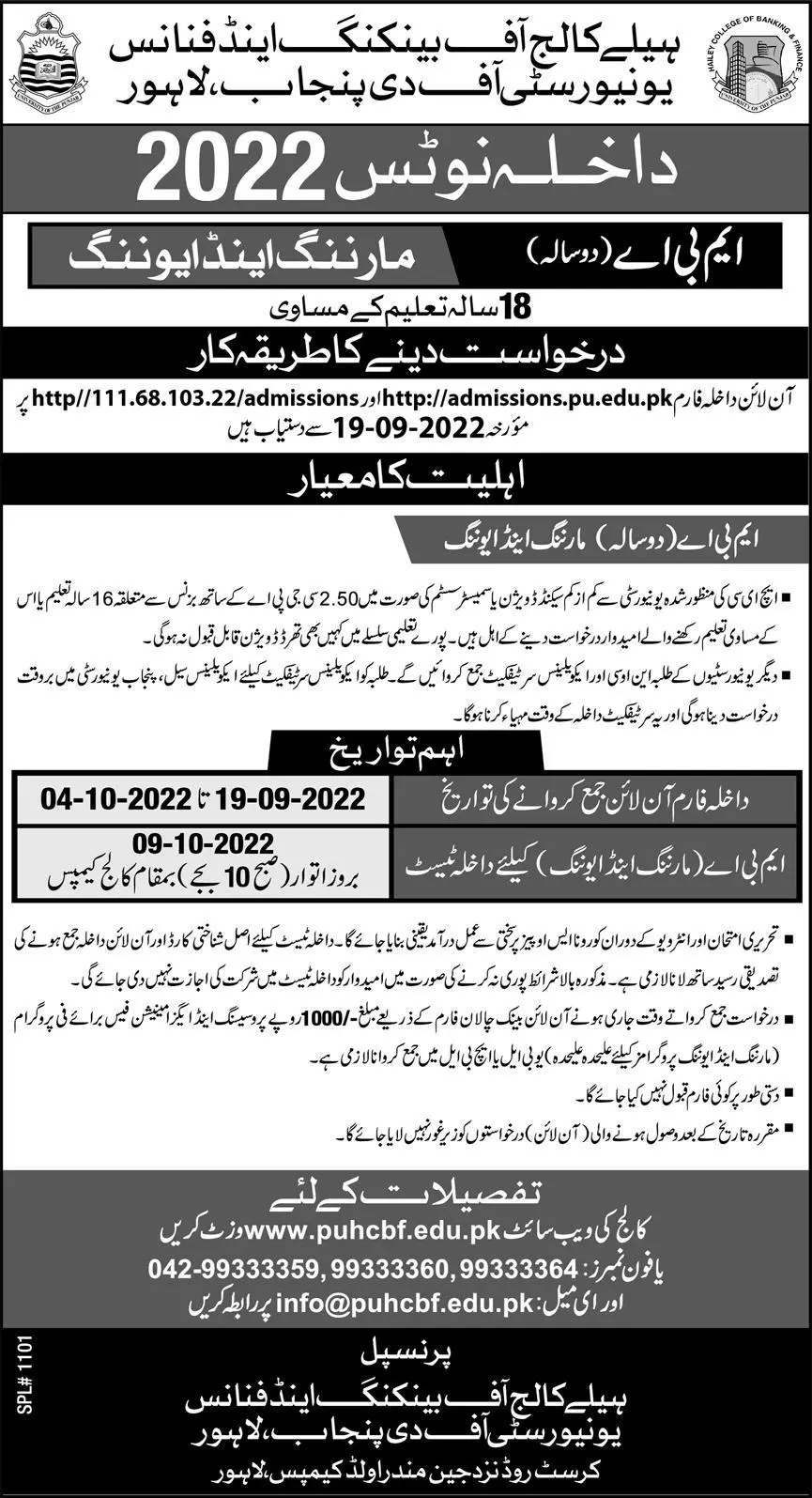 Hailey College of Banking & Finance
University of the Punjab, Lahore
Entry Test Applications on prescribed form are invited for admission to the 4 years BBA (Hons) Morning Programs and 3½ years MBA Morning Programs from the candidates who have passed or awaiting their results, Intermediate or equivalent examination for BBA (Hons) and 14 years Graduation or equivalent for MBA Program.
Prescribed Entry Test Forms are available from Admission Office of the College from onward. (Monday to Sunday). 08:30 AM to 04:30 PM
Last date for submission of Entry Test Form: Monday till 04:30 PM
Entry test will be conducted by the College at Punjab University Examinations Centers, Wahdat Road, Lahore on the dates mentioned below.
Entry test result will be declared and will be available on College website www.puhcbf.edu.pk and as well as on College notice board.
Eligibility:
i)       Intermediate / A-Level or equivalent qualification for BBA (Hons) and 14 Years Graduation or equivalent qualification for MBA with at least (2nd Division) from a recognized institution.
ii)      Candidates awaiting result are also eligible for Entry Test. However passing of requisite exam is a must before submission of Admission forms.
Age Limit:  Less than 24 years for BBA (Hons) and 26 years for MBA as on the last date  of submission of application forms.
Address
1-Crust Road, Near Jain Mandir, Lahore Tel: (042) 99213791, 99213792
Hailey college is a best college in Lahore that is providing Commerce and Business Education, Hailey college is a branch of University of the Punjab, the Merit of B.com, M.com and BBA is high, due to many students from all over the Punjab wanted to take admission in Hailey college of commerce. the student who wanted to study in commerce field.
How to Apply Online:
for online application just go to www.admissions.pu.edu.pk and fill all required fields.