Gujranwala Electric Power Company Jobs 2022 GEPCO recruitment Test
Gujranwala Electric Power Company (GEPCO) has been setup over area of jurisdiction and network of former Area Electricity Board, which was created in early eighties. It encompassed the areas of existing Districts of Gujranwala, Hafizabad, Sialkot, Narowal, Gujrat and Mandi Bahauddin.
Last Date For Application Submission is 10 May 2022
GEPCO was incorporated on 25th April, 1998 and obtained certificate for commencement of business on 5th June, 1998. Management and Administration is entrusted to a Board of Directors.
We have about 2,795,221 connections; Average monthly collection for the year 2022-23 is approximately 6261.20 million Rupees.
1……TEST CENTRE: o/o Manager (Operation), City Circle GEPCO, 132-KV Grid Station Shaheenabad, Near Gulshan Iqbal Park, Gujranwala.
2……TEST CENTRE: Baba Woolen Mill, Opposite PSO Petrol Pump, Near Nawab Chowk, By-Pass Road, Gujranwala.
3……TEST CENTRE: o/o PD (GSC) GEPCO, 132-KV Hafizabad Road Grid Station, Awan Chowk, and Gujranwala.
4…… TEST CENTRE: o/o Manager (GSO) GEPCO, 132-KV Cantt Grid Station, Near DC Colony, G.T. Road, Gujranwala.
5……TEST CENTRE: o/o Manager (Operation), Gujarat Circle, GEPCO Complex, G.T. Road, Gujrat .
6……TEST CENTRE: Mandi Bahauddin Sports Stadium, New Rasool Road, Mandi Bahauddin
7……TEST CENTRE: o/o Manager (Operation), Sialkot Circle GEPCO, Shahabpura Road, Sialkot.
8……TEST CENTRE: Narowal Gymnasium, Near Rescue 1122, Circular Road, Narowal.
9…….TEST CENTRE: Quaid Azam Town, Near Punjab University Campus, Ali Pur Chowk Bypass Road, Gujranwala.
Gujranwala Electric Power Company (GEPCO)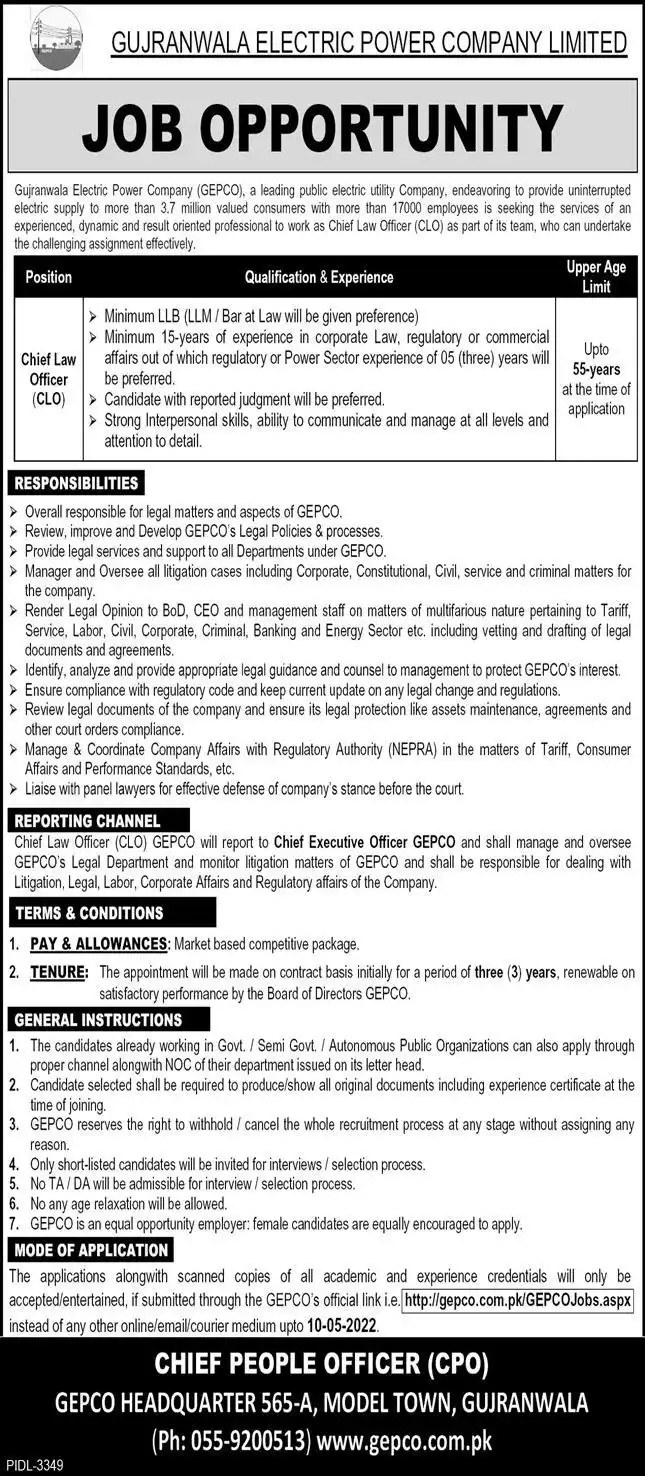 (Recruitment Test)
To Download Advertisement – A :
(For BPS-17 & BPS-18)
To Download Advertisement – B :
(For BPS-06 to BPS-16)
To Download Application Form – A :
From BPS-14 to BPS-16
(For Other Than Disabled / Employee Children Quota)
To Download Application Form – B :
From BPS-06 to BPS-13
(For Other Than Disabled / Employee Children Quota)
To Download Application Form – C :
From BPS-06 to BPS-16
(For Employee Children Quota Only)
To Download Application Form – D :
From BPS-06 to BPS-16
(For Disabled Quota Only)
To Download Application Form – E :
(From BPS-17 to BPS-18)
Test Date :