Gomal University Dera Ghazi Khan Khyber pakhtunkhwa starts taking admission applications for master level degree program session 2019. The entry test and admission forms available from today from Gomal University National Bank Branch code No. 1373 or online pls Account number 724-7 and allied bank faqirni Gate on payment of Rs. 2000/- application processing fees Rs. 1000/- plus Entry Test Fess Rs. 1000/-
Science faculty Programs:
MSC in Biology
MSC in botany
MSC in Chemistry
MSC in computer science
MSC in Economics
MSC in Mathematics
MSC in Physics
MSC in Sports Science and physical education
MSC in Statistics
Msc in Zoology
Arts Faculty Programs:
Master in Arabic
Master in Business administration 3 ½ years program
Master in Banking and Finance
Master in Commence
Master in English
Master in Islamiat
Master in Communication and Media Studies
Master in Political Science
Master in Public Administration
Med one year
Bed 1.5 years
BEd two years
LLB 3 years
M.Phil Master in Public health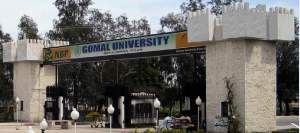 Admission Schedule:
Last date of submission of admission form: 28 November 2018 Tuesday
Entry Test Admission Aptitude Test: 03 December 2018 Sunday
Venue of Entry Test: Wensam College, Gomal University DI Khan city campus.
Entry Test Result Date: 06 December 2018 Wednesday
Test of Hafiz e Quran Date: 07 and 08 December 2018 Thursday and Friday
Venue of Test of Hafiz e Quran: Wensam college, City campus.
Medical Examination and physical efficiency test for physical education will be also held on 7 and 8th December 2018
Display of eligible candidates: 11 December 2018 Monday
Interviews of all eligible candidates will be held on date 12 to 13 December 2018
First merit list will be display on date 18 December 2018 Monday
Deposit of Dues of first merit list: 19 December 2018 to 21 December 2018
2nd Merit list will be display on date 22 December 2017 to 26 December 2018 and in same days will be deposit fees.
3rd merit list fees will be deposit on date 27 December 2018 to till date 29 December 2018.
The classes will be start from date 01 January 2018 Monday.