Frequency Allocation Board FAB management Trainee Program 2020
Frequency Allocation Board FAB starts hiring Management Trainees for below:
Management Trainee Technical:
The applicant having MSC Engineering in telecom / electrical / electronic / or BSc Engineering in Telecom / Electrical / Electronics with minimum CGPA 3.0 registered with Pakistan engineering council.
Management Trainee Computer Science / Information Technology / Computer Science:
The applicant having Master degree in computer science (MCS) Bachelors in computer science BSCS with minimum CGPA 3.0 from a recognized university with good knowledge of windows, Linux, MAC, OSX, Oracle, SQL, Visual, Basic, Java Script, HTML, LAN, WAN, network configuration and security, MS Office suite, MS project.
Management Trainee Law:
The applicant having LLB first or LLM first class degree from reputed institution or university, the student having knowledge of telecommunication laws will be preferred.
Management Trainee Finance / Accounts:
The applicant having ICMA or ACCA or MBA first class degree in finance and accounts with sufficient knowledge of relevant software packages of computer.
Management Trainee (HR) Human Resources:
Master degree in HRM or MBA HR with minimum 3.0 CGPA from recognized university with good knowledge of internet surfing / browser latest internet search / traffic trends / MS office.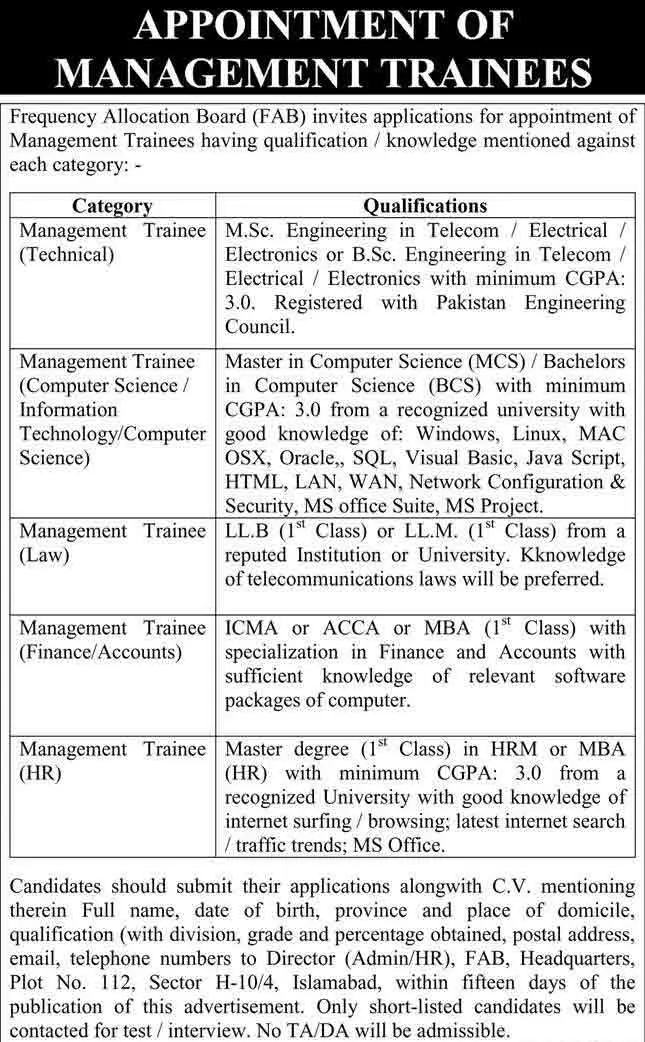 How to apply:
The eligible candidates can submit their Job application form to following address:
Director (Admin/HR) FAB headquarter plot No. 112 sector H-10/4 Islamabad.
FAB will contact shortlisted candidates for test and interviews.