Government of Khyber pakhtunkhwa Governor Mr. Iqbal Zafar jhaghra announced Job Training Program for FATA Youth students. These six months paid internship program will be highly motivated to students from middle to graduate pass, it's a KPK skilled development program for the students of FATA agency. The admission form can be download from www.fatada.gov.pk/fyst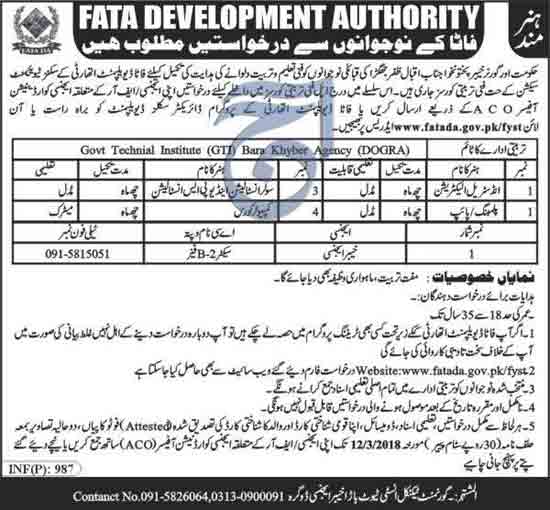 Last date of submission of internship application form: 12 March 2018
FATA Training Programs:
Industrial electrician:
Plumber pipe fitting:
Solar installation and UPS Installation:
Computer courses:
Eligibility criteria:
The middle 8th class pass candidates can submit internship application form. If you already take any course, scholarship, internship those candidates are not eligible to apply.
Age limit: 18 to 35 years old
It's a free training program with government of KPK will provide stipend to selected candidates for above programs.
The 6 months training program is so beneficial for youth of FATA after this training program candidates can easily get Jobs everywhere in the world.
Telephone Number: 091-5815051
Address: Khyber agency sector 2 phase B
New Internship Opportunity announced to FATA students and Jobless People by FATA Development authority in Regards of Governor of Khyber Pakhtonkhwa Initiative. This Internship is 6 month in which you will be trained and a monthly stipend will be given and Hostel facility will also be provided with meal.
Detail and Application form can be download http://fatada.gov.pk