update dated: 25-March-2019
EDCON Asia scholarship programs for students of schools and colleges, more than 2000 scholarships, Now EDCON Asia increase their Scholarship application submission date, the last date for submission of application form is 07-April-2019 Monday. National testing service will be take tests on dated 27-April-2019 Sunday. students submit your scholarship application forms to NTS and become avail for tests of NTS Pakistan.
The Education Consortium offering continuously scholarships, if the selected candidates provide good performance in their regular studies in future.
EDCON Asia Scholarship program 2019 Announced
EDON Asia offered scholarships for Pakistan needy base students, to avail EDON Asia scholarships the last date of submission of application forms is 31-March-2019 Monday. EDON Asia scholarship test will be taken by National Testing Service of Pakistan known as NTS.org.pk.
The test dates of these scholarships have not been announced yet but it will be announced soon.
for more detail in urdu check.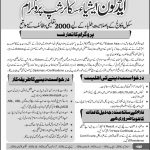 Download Application form of EDON Asia though NTS
The scholarships are open form 6th class to 1st year FA, Fsc, inter, graduate and master students of Pakistan. EDON Asia total scholarships available are 2000/- for all categories in Pakistan with different details of these scholarships give above image.