Dawood University of engineering and technology Karachi is going to offer scholarships for Dawood University students only. Its scholarships are based on merit and need based students, any student who are talent and cannot afford the fees can submit scholarship application form before last date. The DUET will be award the scholarship to selected students under this scholarship scheme and those students can continue their study without university fees. The male and female students of DUET with any department from undergraduate, Master, PhD or other programs can submit scholarship application form before date 30-11-2018.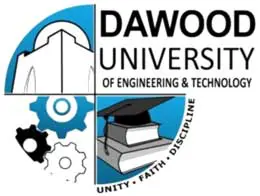 Scholarship – 2019 Award Schedule
The application forms will be issues by today 25 October 2018
The forms duly filled by the candidates will be collected by November 30th, 2018
Sorting and selection of deserving candidates for interview will be completed by December 31st 2018.
Interview and selection of candidates will be completed by January 31st, 2019
Award of Scholarship by February 15th, 2019.
Dawood University of Engineering & Technology aims to invest in human capital for accelerated advancement in engineering knowledge and practices, new frontiers in R&D hence creating knowledge led economy and better future for generations to come.