Dispenser Course Admission in Directorate General Health Services
Director General Health Services Punjab Cooper Road, Lahore offer Course Admissions in Dispenser for session 2021-2022. One year diploma course admissions for Punjab domicile holders, Admission applications are invited from all over the Punjab.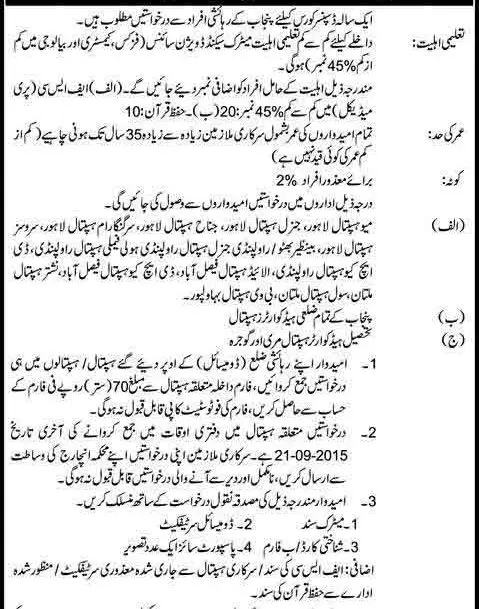 Eligibility:
The candidates who want to take admission require Matric Pass with second division, minimum 45 % marks with physics, chemistry and Biology subjects.
If the candidate has passed FA or F.sc per medical with Hafiz Quran will be consider early.
Admission Applications:
The admission applications can be submit in Meo Hospital Lahore, General Hospital Lahore, sir Gangha Ram Hospital Lahore, Services Hospital Lahore, Banzir Bahto Hospital Rawalpindi, General Hospital Rawalpindi, Holi Family Hospital Rawalpindi, DHQ Hospital Rawalpindi, Allied Hospital Rawalpindi, QHQ Hospital Faisalabad, Tashtar Hospital Multan, Swal Hospital Multan, and Bahawal Victoria Hospital, Bahawalpur.
All Punjab District Hospitals