DHA Gujranwala Date of Form Submission 23 May 2022 to 10 June 2022 and Final Ballot on date 30 June 2022.
Executive Block Premium Residential life Style.
A Golden Opportunity to be aprt of Posh and Gated Community Situated on main boulevard 1 and 2 Kanal Located Residential Plots in DHA Gujranwala Limited Forms will be available at DHA Gujranwala Offices and Website.
Fee Can be deposited in following Banks:
Askari Bank
Soneri Bank
UBL Bank
Bank Al Habib Limited
The Bank of Punjab
Search online result of DHA Gujranwala by entry CNIC /NICOP or Ballot Number in below boxes to know your result. If you face any problem contact us and we will answer you as early as possible.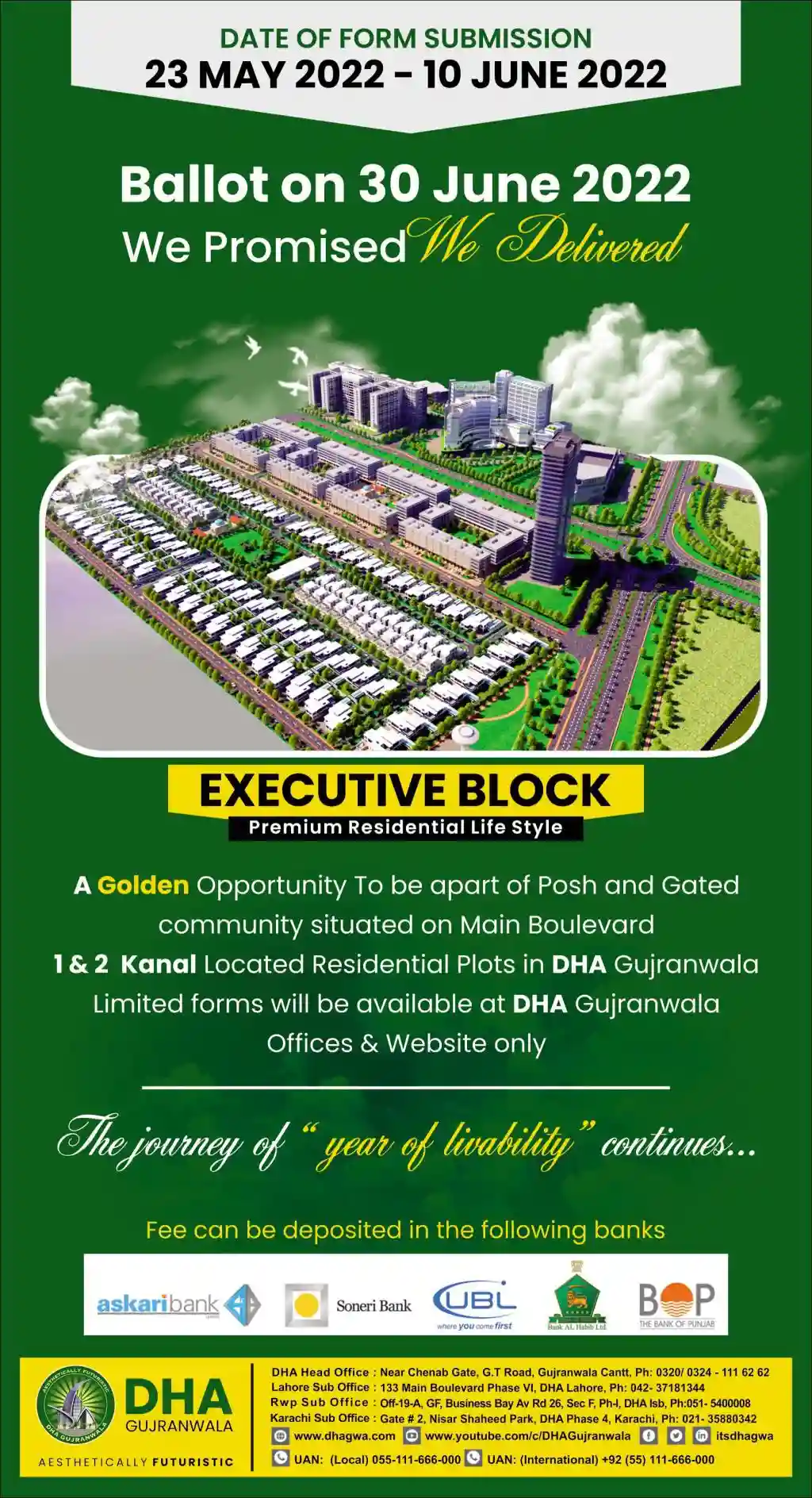 Ballot result can be be looked up by providing your CNIC/NICOP number OR ballot number in the given box.
In case of success please note down your OBF number. This number will be required to find and print your payment voucher.
Your Payment voucher of payment of registration fee and down payment will be available on our website Date of Submission from 23 May 2022 to 10 June 2022
For intimation letter, you will have to deposit Rs 5000/- as Registration fee and Rs 300,000/- as Down Payment before 10 June 2022.
Balloting of Executive Block 1 and 2 Kanal Marla scheme announced on date 30 June 2022.
Due to ballot ceremony, routine business activities will be available from 09:00 AM to 12:00 PM only on 10 June 2022.
Files for 5 Marla Plots will be provided to successful candidates after balloting ONLY. DHA Gujranwala has not issued/ allotted any quota/ files to any person(s)/ party/ Property Dealer(s), Investor(s) etc. Anyone buying files from any 3rd party before balloting shall be liable to fraud and may do any such trade of files at their own risk.
Defence housing authority DHA Gujranwala starts taking 5 Marla application forms from 26 December 2017 and the last date is extended till date 22 and 23 January 2018. The interested investors still download Application form and submit to DHA Gujranwala office for 5 Marla Plot in DHA Gujranwala. After the completion of application forms process the officials of DHA Gujranwala will be announced the final date of balloting Draw Result. the DHA Gujranwala Balloting will be held in the Month of June 2022 currently the final date is not published by DHA Gujranwala but its a Expected News that the Balloting result will be announced in the month of June 2022.
Last Date for Submission of Application Form: 10 June 2022
Application Form Online and Manual System: Click here
Balloting Date: 30 June 2022
DHA Gujranwala 5 Marla residential Plot files application form fees is Rs. 3000/- that is not refundable. The thousands of Pakistani local as well as foreign Pakistani's already deposited plot file with Fees Rs. 3000/- the final Merit List selected candidates that will be receive DHA Gujranwala Executive Block 1 and 2 Kanal will be announced.
DHA Gujranwala official website www.dhagwa.com and UAN Number 055-111-666-000 and 24/7 helpline number is 0320-1116262 and 0324-1116262.
DHA Gujranwala is working with banks Askari bank, Sonari Bank, UBL and the bank of Punjab for receiving Application forms for 5 Marla Residential Plot.