D Pharmacy Admission in Punjab University Lahore 2020 Last Date
University of the Punjab PU College of pharmacy Lahore Allama Iqbal Campus starts taking admission applications for Pharm-D (Doctor of pharmacy) session 2020-2025.
Five years doctor of pharmacy Annual regular and self-supporting programme.
Eligibility Criteria:
Punjab domicile holders can submit admission application form. The minimum marks in FSC Pre Medical 60 Percent and BSC after 60 % in FSC or equivalent examination pre medical for admission to Pharm-D session 2020-2025 of regular (Morning) and self-supporting (Evening) program fee for each program is Rs. 500/-.
How to apply:
The eligible candidates can submit admission application form online portal www.admissionpucp.edu.pk new students can create the account and then apply online.
Fill in registration form
Save and finalize
Print
Deposit fee in any HBL (habib bank limited) Branch
Check online after submission of fee to bank that application status changed to pending to paid and ready to submit within 3 days of deposit.
If any student face problem, can contact to university officials on office hours from morning 08:00 AM to 4:00 PM on the contracts 042-99212775 and 042-99211616 and mobile number: 0333-4051352
Email address: admission.pharmcy@pu.edu.pk
Printed admission application form with other related documents must be submitted to university admission office before last date.
Admission office: Punjab University College of Pharmacy University of the Punjab PU Lahore Allama Iqbal Campus 54000.
Read Also:
Pharm D Admissions Open in University of Karachi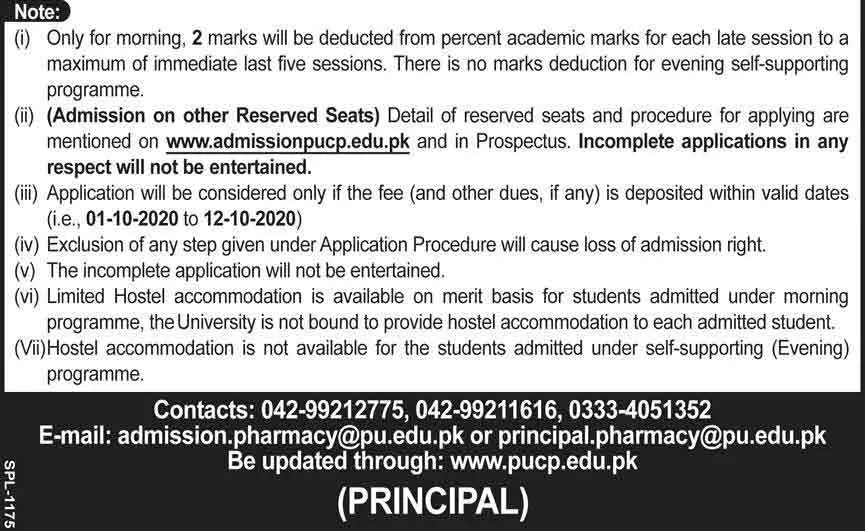 Date of applications:
The online portal for admission will be opened on 01 October 2020 and closed on date 12 October 2020 at 04:00 PM.
Read Also:
Punjab University Lahore MA Msc Admission Fees 2020 Form Last Date
Punjab University College of Pharmacy University of the Punjab, Allama Iqbal Campus, Shahrah-E-Quaid-E-Azam (The Mall), Lahore Online Admissions 2020 "Online Admission Portal" Five Years Doctor of Pharmacy (Pharm-D) Annual
(Regular and Self Supporting Programmes) www.admissionpucp.edu.pk/