Admission Open College of Tourism & Hotel Management (COTHM) Lahore 2023
Choose Hospitality as a career be an international citizen. Pakistan only hotel school accredited & affiliation by AH & L USA, CTH UK, ICM UK and the leading hotel schools in Europe. British, American and European dual degree program.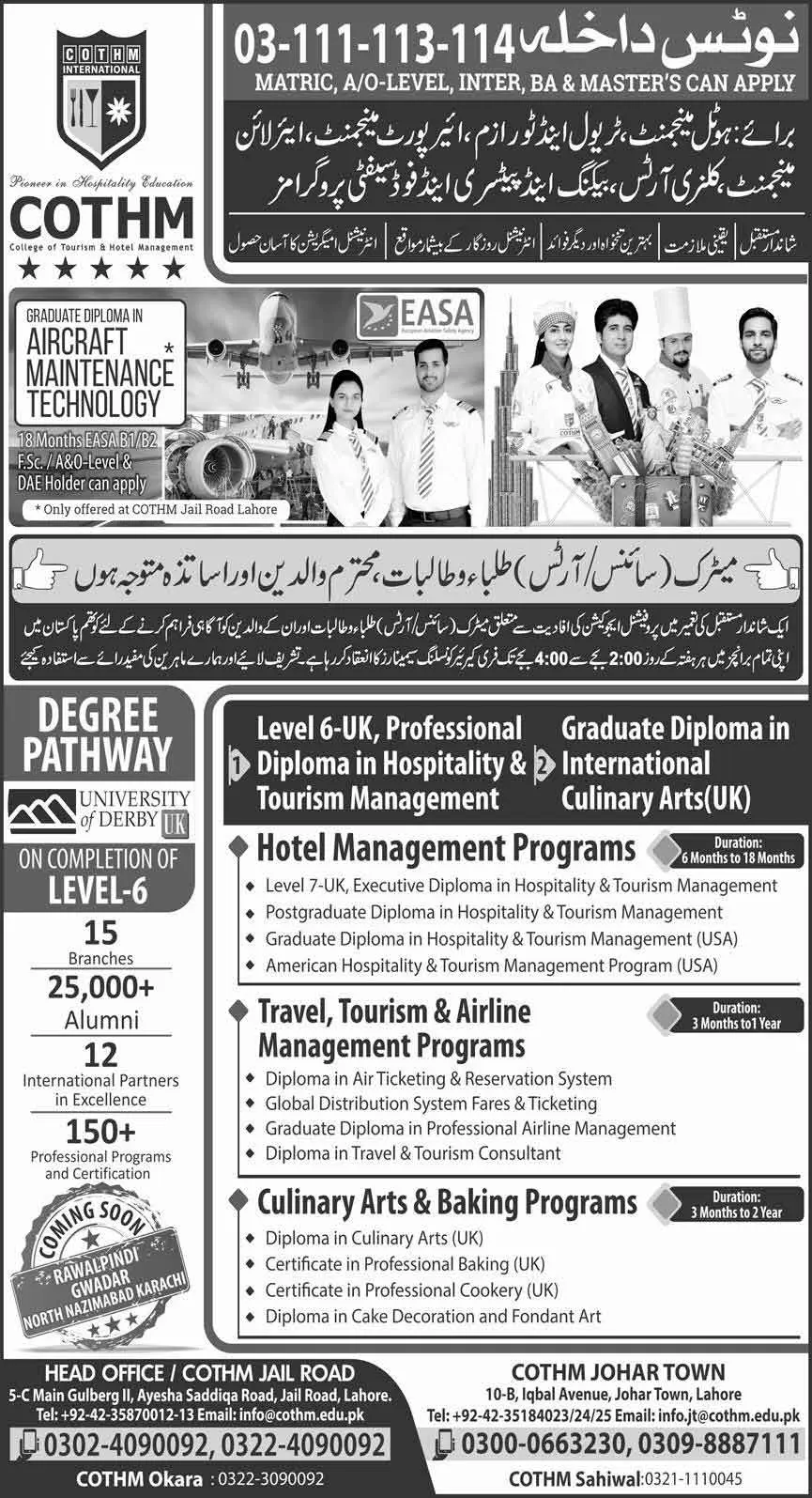 Be a General Manager of Hotels, Restaurant, Fast food chain, director, F & B, sales & marketing, HR, Room division or hospitality entrepreneur and much more with these programs.
Following are the program offer By COTHM:
Hotel Management programs:
postgraduate diploma (1 year)
Graduate diploma (14 Months 4 Months internship)
Diploma 1 year with internship
distance learning program 3 Months to 1 year
Culinary Arts Programs:
Advance diploma 2 years with internship
Diploma 1 year with internship
Certificate 3 Months
Professional fast food, Baking & cookery 3 months.
Last date to apply:
Eligibility:
Metric,intermediate, Bachelor and Master holder student can apply for these programs.
For contact:
Main campus:  5-c Gulberg 2 (Behind EFU house) Jail road Lahore. Tel: 042-35870012-13  Mob: 0322-0302-4090092.
Karachi campus: G-4/A, Block 17, gulshan-e-Iqbal Karachi(Behind National stadium). MOb: 0336-2226846
For more information:
www.cothm.edu.pk
facebook id: cothmpakistan
Email: [email protected]