College of Nursing National Hospital & Medical Centre DHA Lahore offering admissions in different programs admission session march 2019 to March 20.
Last date of submission of admission form: 31 January 2019
College of Nursing DHA Lahore cantt offering one year different post basic diplomas.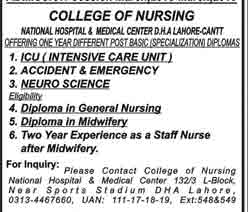 Programs:
ICU (intensive care unit)
Accident and Emergency
Neuro science
Eligibility:
Diploma in general nursing
Diploma in midwifery
Two year experience as a staff nurse after midwifery.
For inquiry
Please contact college of nursing national hospital and medical center 132/3 L-Block Near sports stadium DHA Lahore.
Please contact at: 0313-4467660 UAN: 111-17-18-19